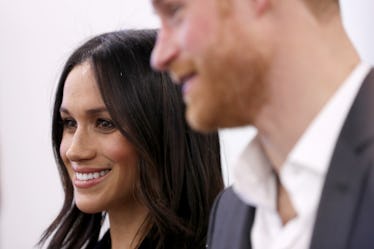 Meghan Markle Reportedly Threw A "Secret" Bachelorette Party, But One Person Was Missing
Chris Jackson/Getty Images Entertainment/Getty Images
You know how when you're out at a bar, you can spot a bachelorette party in action a mile away? There's the never-ending shots. The pink "Dare To Do It" checklist. The buzzed girl in the tiara and sash drinking from a giant cup. So yeah, it's pretty obvious. But if you happened to spot Meghan Markle out over the March 3 weekend, you may have missed the fact that the former Suits star — who will wed Prince Harry on May 19 — was actually low-key getting her bachelorette on. And apparently Kate Middleton wasn't at Meghan Markle's secret bachelorette party, according to reports. Say what?
Don't worry — according to The Sun, there's no bad blood among the blue bloods. The 36-year-old actress apparently spent the day getting pampered with her closest friends as part of a glam spa retreat at a five-star resort. Notably absent were her sis-in-law to be, the Duchess of Cambridge, and Meghan's mom, Doria Radlan. Middleton reportedly wanted to attend, but since she's currently seven months pregnant and just finished a full week of public appearances, she needed to take a pass. And Radlan simply couldn't make the trip across the pond from her home in Los Angeles.
So who was there? The guest list has been kept a secret, and there's been no official word from Kensington Palace. But according to the London Times, the group may have included former reality TV star Millie Mackintosh (who has been helping Markle plan the wedding), fashion designer Misha Nonoo, and Violet von Westenholz, who is a friend of Prince Harry's. Nonoo and von Westenholz are rumored to have introduced Markle and Prince Harry, so it only makes sense that they'd be tapped to attend.
Other possible guests according to Brides, include stylist Jessica Mulroney (who is reportedly helping the bride-to-be pick out her wedding gown), Markle's Suits costar Abigail Spencer, and new mom Serena Williams.
I don't know about you guys, but I won't feel satisfied unless I know Donna Paulsen was there. And no, I don't mean Sarah Rafferty, the actress who plays her. I mean Donna freaking Paulsen.
Anyway, whoever was there, I'm sure the weekend was fabulous. Too bad Markle didn't invite the public to attend this pre-wedding bash. After all, she and Prince Harry did just announce that that they are inviting 2,640 people to the grounds of Windsor Castle for a close-up view of their May 19 nuptials.
"They want their wedding day to be shaped so as to allow members of the public to feel part of the celebrations too," reads a statement from Kensington Palace. "This wedding, like all weddings, will be a moment of fun and joy that will reflect the characters and values of the bride and groom."
The statement goes on to explain that the 2,640 people selected will get to watch the arrivals of the bride, the groom, and all of their wedding guests. Plus, they'll get to check out the carriage procession as it departs from the castle.
Pretty cool, right? Of course, if you want to be in that lucky 2,640, you'll have to meet one of the requirements. Here's the deal: The group will be made up of 1,200 members from the United Kingdom, who have shown strong leadership skills and served their communities. There will also be 200 people selected from a range of charities and organizations that Prince Harry and Markle have a close association with, including 100 students chosen from two local schools (The Royal School, Great Park, Windsor, and St George's School, Windsor Castle), 610 Windsor Castle community members, and 530 members of The Royal Households and Crown Estate.
Is it too late to start conquering one of these goals now? Probably. But I'm pretty sure I know one person who could make it happen.