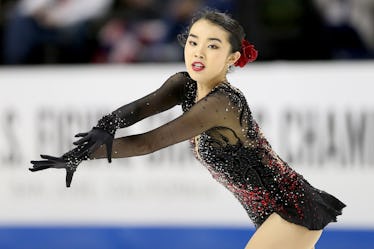 Karen Chen's Short Program Song Is As Sophisticated As It Gets
Matthew Stockman/Getty Images Sport/Getty Images
On Wednesday, Feb. 21, (Tuesday night in the U.S.) the short program portion of the women's individual figure skating competition will begin at the Winter Games in PyeongChang, South Korea. That means it's finally time for the Olympic debut of Karen Chen, and that debut will be performed to a song that is all about melody. Karen Chen's short program song is "On Golden Pond," a lyric-less selection by pianist Dave Grusin.
Grusin made "On Golden Pond" for the 1981 film of the same name, which starred acting legend Katherine Hepburn. Chen has choreographed her routine for "On Golden Pond" herself, for which she intends to portray a peacock, according to NBC. The figure skater has performed to the song before, most notably during her short program at the 2017 U.S. Figure Skating Championships, where she finished in first place for the gold medal.
When Chen steps on the ice at Gangneung Ice Arena on Wednesday (Tuesday night in the U.S.), it will mark her first appearance at the 2018 Winter Olympics since the Games began. Chen sat out of the team competition, which was held a week prior, despite being crowned the top American woman at the 2017 U.S. Championships.
Ahead of Wednesday's short program, Chen was not even staying in PyeongChang. Instead, Chen has stayed in Chuncheon, South Korea, a city in which U.S. Figure Skating rented an ice rink where athletes could train away from the Olympics' main site.
"I wanted to be in the Village and be around the athletes but I am willing to do whatever it takes to have my best skates at the right time," Chen told The Mercury News. "I feel like I am ready for this and ready to experience this Olympics."
Who Is Karen Chen?
Karen Chen is an 18-year-old native of California's Bay Area who comes from a family with multiple figure skating athletes. Her younger brother, Jeffrey, competes in the sport as well, and won a silver medal at the 2018 U.S. figure Skating Championships, according to Mercury News.
Karen Chen is not, however, related to 19-year-old Nathan Chen, who is another Team USA figure skater who has competed in PyeongChang. "Everyone thinks that Karen Chen is my sister," Nathan Chen told NBColympics.com. "Unfortunately we're not related, but we're good friends."
Ahead of Wednesday's short program, in an interview with the Associated Press, Chen shared how nervous she has been in the lead-up to the women's event in PyeongChang. To help with those nerves, she's worked with a sports psychologist, the Associated Press reported.
"Just talking about my feelings and kind of my worries," the 18-year-old Chen is quoted as saying. "Like, why I would worry about this jump, or why I'm worried about this program, why I get nervous. Just talking about that and working with my sports psychologist really helped me."
Adding to Chen's nerves is the fact that she will be performing at the Gangneung Ice Arena, where she mustered only a 12th place finish at the Four Continents competition in February 2017.
"Being back on the ice this morning, it was a little overwhelming, I'm not going to lie," Chen told the Associated Press. "But I feel like it's just what I needed. I kind of need to figure out mentally how I'm going to deal with this, how I'm going to compete."
Despite the nerves, her history with the site of the competition, and her inexperience at the Olympics, though, Chen still says she's ready to take on her big moment.
"I've had so many people tell me to enjoy and embrace this Olympic experience," Chen said in an Instagram post on Sunday, Feb. 18. "And I think I'm seriously ready for it. I'm ready to make extraordinary memories, ones that I'll never forget and cherish forever."
That big moment will come on Wednesday, when she performs her short program routine to "On Golden Pond."