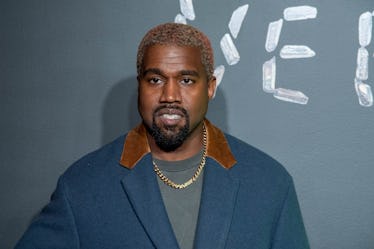 Kanye West Got Called Out During A Broadway Show But Handled It Like A Champ
Roy Rochlin/Getty Images Entertainment/Getty Images
Kanye West apparently needs to brush up on his theatre etiquette because he was called out in a big way while attending opening night of The Cher Show on Broadway. Actor Jarrod Spector, who plays Cher's ex-husband Sonny Bono in the musical, took to Twitter to point out that West was on his cell phone while the performance was ongoing. And believe it or not, Kanye West's reaction to getting called out for bad etiquette at the theatre is surprisingly mature.
As you could probably guess, The Cher Show covers the illustrious life and career of music legend Cher. The Broadway musical opened on Monday, Dec. 3 at Neil Simon Theatre in New York City and a slew of celebrities attended the show, including Kim Kardashian and Kanye West.
During the show, Spector decided to tweet about West's poor theatre etiquette. Apparently, West was on his phone while the show was underway, which is something the performers on stage noticed.
"Hey @kanyewest so cool that you're here at @TheCherShow!" Spector wrote in his tweet on Monday, Dec. 3. "If you look up from your cell phone you'll see we're doing a show up here. It's opening night. Kind of a big deal for us. Thanks so much."
While it's totally embarrassing to be called out about poor theatre etiquette so publicly, West seems to have taken it all in stride, at least judging by his response to Spector.
"The dynamics of Cher and Sonny's relationship made Kim and I grab each other's hand and sing 'I got you babe' please pardon my lack of etiquette," West tweeted. "We have so much appreciation for the energy you guys put into making this master piece."
West is obviously open to criticism and growth and he definitely demonstrated that with his tweet.
You can see West and Spector's Twitter exchange down below:
After Spector and West's tweets became mainstream celebrity news, Kardashian decided to chime in and explain why her husband was on his phone during the performance. On Tuesday, Dec. 4, Entertainment Tonight asked Kardashian about West during the KKW Beauty and Fragrance pop-up shop in California. Kardashian had a perfectly reasonable explanation for West's behavior at the theatre.
"Honestly, he was on his phone taking notes," Kardashian said. "He definitely wanted to apologize for being on his phone because he's like, 'I get it, I'm a performer and I love people when they are in the moment.' But he was, like, taking stage notes and taking things in his phone, so I get it. He was like, 'I'm going to work on my etiquette.' But he loved the show."
So, it seems like West was just really appreciative of the show and wanted to take notes to remember as much as he could. But still, he could have taken notes after the show, right? Either way, it seems like West learned a thing or two about theatre etiquette and will probably refrain from looking at his phone while attending future shows.