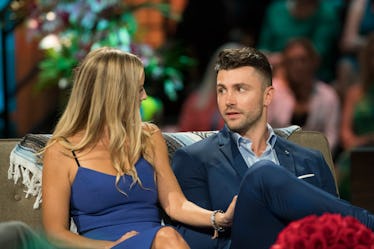 Kamil Explained His Breakup With Annaliese On Twitter, But Bachelor Nation Isn't Buying It
ABC/Paul Hebert
Kamil Nicalek wasn't exactly the Bachelor in Paradise Season 5 finale's MVP. The model/real estate agent/trainer/social media participant shocked viewers — and his girlfriend, Annaliese — when he decided to call it quits with her during Tuesday, Sept. 11's reunion show. It seemed like a brutal way to end things so publicly without warning, but now Kamil's speaking out about his actions to set the record straight. Kamil's tweet about his breakup with Annaliese attempts to offer up somewhat of an explanation, although it might be difficult for him to get back into some of Bachelor Nation's good graces.
"Annaliese & I met under unique circumstances that not many can relate to. I was & am still very confused by the speed that feelings & commitments take place in this setting. It is not easy. @annaliese_p_ and I were real & the strong feelings for one another were mutually shared," Kamil wrote on Twitter following last night's devestating finale.
Kamil and Annaliese were one of three couples who made it to the very end of Bachelor in Paradise's fifth season. While he was not ready to propose to her after their night in the fantasy suite, he did express his love and commitment to her in the final moments of their time on the beach. He told her:
From the first day we had together I knew that you were a special woman. I was very nervous and my heart was racing and I know you had a big place in my heart. I realize that I was falling in love with you and I couldn't live without you. Annaliese, I love you. I want to have a future together.
Annaliese and Kamil's happy ever after quickly evolved into an on-camera nightmare when Chris Harrison interviewed them during the reunion special, which was filmed Aug. 28. Kamil proceeded to tell her that he could no longer try to make their long-distance relationship work, admitting that he felt he "kind of lost that spark" they had after leaving Paradise.
"It's just not working out for me. I think it would best for us to just slowly part ways," he added.
Annaliese was noticeably blindsided by his surprising revelation, even claiming that the two of them had planned to spend the week together in an Airbnb. But Kamil couldn't continue to fight for what they started in Mexico. The audience was equally stunned, even booing at Kamil throughout the conversation. When Annaliese confronted him backstage after their time in the hot seat, he maintained that he was unable to move on with her.
Annaliese shared her own social media following the ordeal, posting a photo of herself in a bathingsuit alongside the hopeful caption, "Don't look back, you're not going that way."
Kamil took to Twitter on the morning of Wednesday, Sept. 12 to showcase his relationship history in what looks like an effort to prove he's been committed in the past.
There you have it, folks. Another Paradise couple bites the dust. Perhaps Bachelor Nation will see Kamil and Annaliese again on a future installment of the franchise.