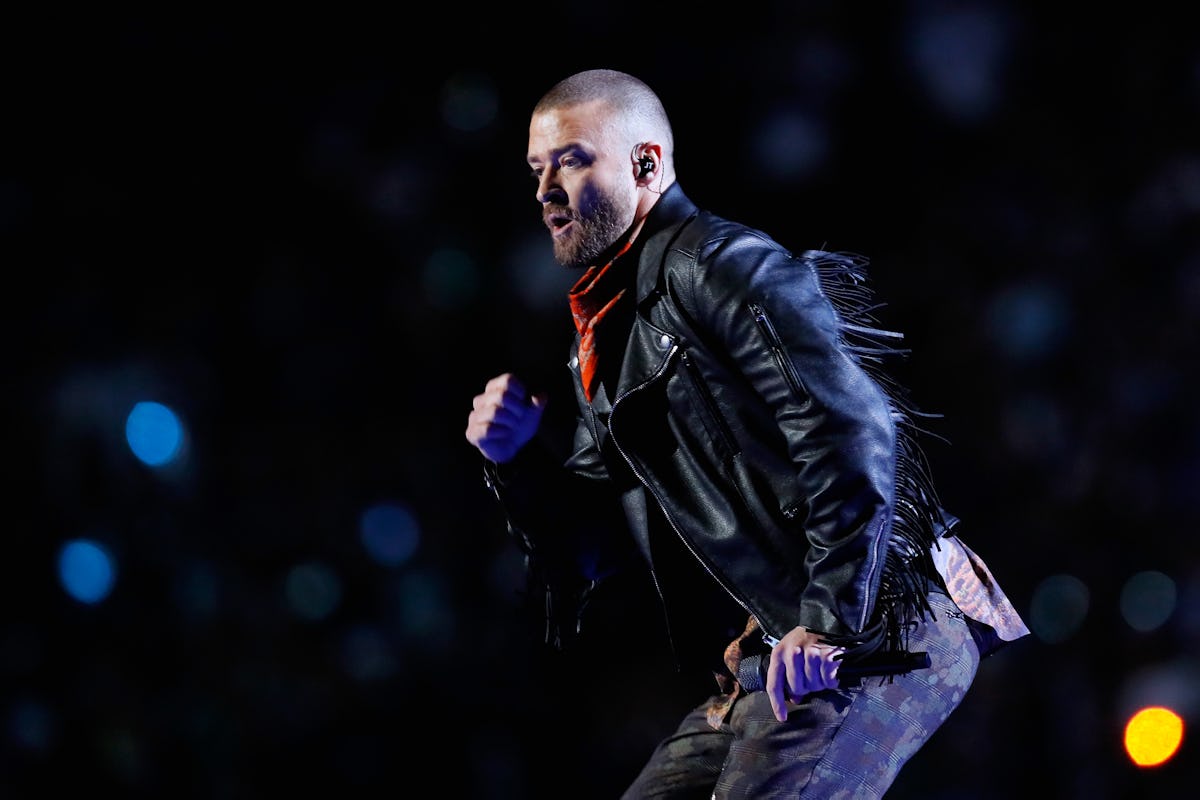 Justin Timberlake Had The Greatest Set List Of All Time For His Super Bowl Performance
Kevin C. Cox/Getty Images Sport/Getty Images
"Ladies and gentlemen," the big game day is finally upon us. Whether you're rooting for the New England Patriots or the Philadelphia Eagles this Super Bowl Sunday, or you're really only there for your friend's killer buffalo chicken dip (I see you), I think we can all agree on some common ground here. And that common ground, my friends, is the Super Bowl halftime show. While the players brought some serious heat during the first half of the game, Justin Timberlake brought the heat to the Super Bowl LII stage, and I instantaneously melted on the floor. For real though — help a gal up, will ya? Justin Timberlake's Super Bowl set list from his halftime show will have you jamming out for weeks to come.
It shouldn't come as a surprise that our main dude brought sexy back, once again. Real talk, though — when doesn't J.T. make a touchdown in our hearts? The answer, quite obviously, is never! He can serenade us any day of the week and I'd be totally more than OK with it. Today, Justin Timberlake's halftime show spotlighted a bunch of faves, including: "Filthy," "Rock Your Body," "SexyBack," "My Love," "Cry Me A River," "Suit & Tie," "I Would Die 4 You" by Prince, "Mirrors," and "Can't Stop The Feeling."
The Super Bowl game alone is crazy intense and stress levels are high AF, so the halftime show is always a really nice breather to bring even fans from opposing teams together to call a truce for a bit. My emotions ran wild when Justin Timberlake graced the stage. If you're at a bar with your friends, you may very well have struggled a bit not to spill your beer all over the dude next to you while you were cheering for your team and our main guy Justin. Oops! Can you really blame a girl, though? It's all in the good spirit of the day, and a little swooning over J.T. never hurt nobody.
In the weeks and days leading up to the Super Bowl, J.T. debuted a few new songs from his new album, Man of the Woods, which came out in full on Friday, Feb. 2 — just two days before Super Bowl Sunday. What a solid leadup to this special day. Fans were also blessed with a little preview of Timberlake rehearsing for the big day. In the #PepsiHalftime behind-the-scenes footage, Justin said,
I am getting an opportunity to have the stage to myself. I really am looking at it as my first time... I believe it's also the place where there's nothing wrong with giving people what they want. My biggest challenge is, what is my fingerprint on that show come February 4? It's gonna go by quick. A bit of unknown you're always, sort of, enthralled by. For 12 or 13 minutes we're going to have a really good time.
Be still, my heart. Justin makes that flannel look crazy good. Am I right, or am I right?
We didn't know what rad tricks Justin would have up his sleeve for us Super Bowl viewers, but however his game plan would play out, I knew we would be seriously swept away by his performance.
This show is certainly one for the books, and J.T. totally brought sexy back with each song he performed tonight, from "My Love," to "Suit & Tie," — even though he was rockin' a suit and bright orange bandana.
Justin — I will definitely cry you a river of happy tears because, in my opinion, your performance shut it down. Congratulations on a great performance and killer start to 2018.