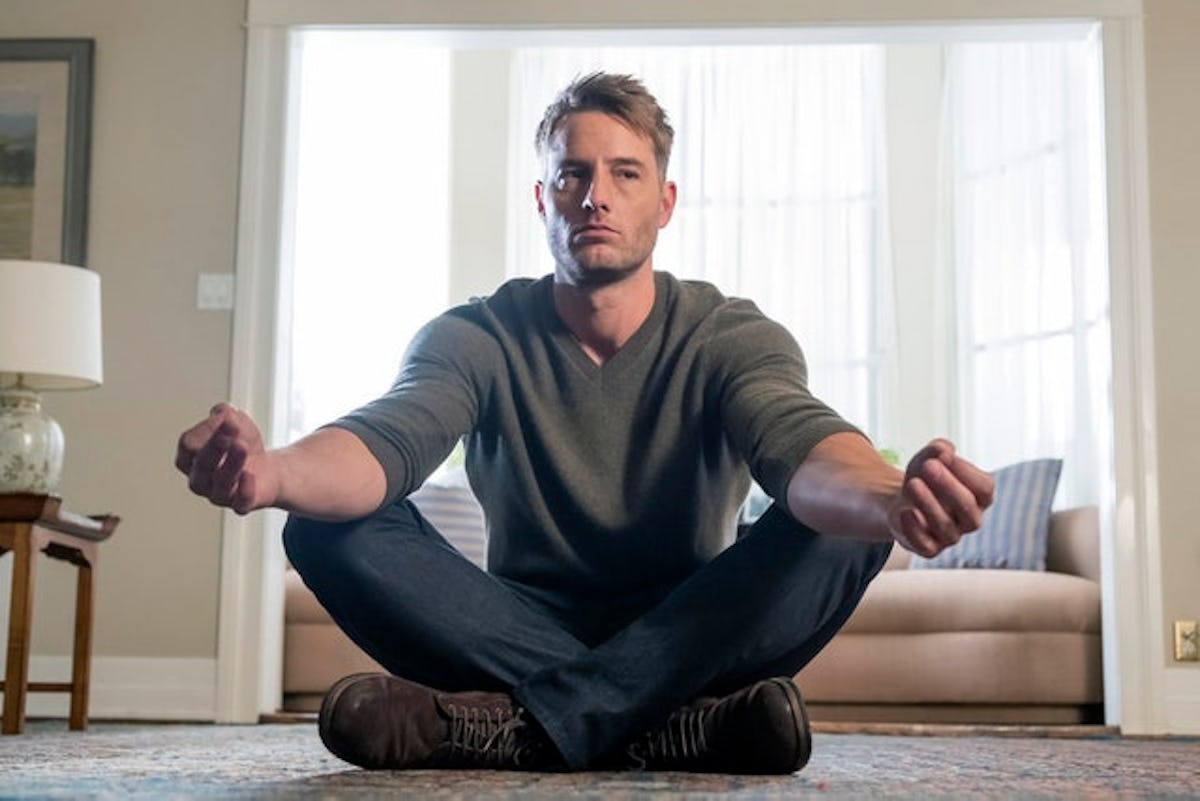 Justin Hartley Reveals The Wildest 'This Is Us' Theory He's Ever Heard – EXCLUSIVE
NBC
There is good news and bad news. The good news: Your body still has four months to emotionally recover from This Is Us Season 2 before Season 3 comes knocking on the door. The bad news: Justin Hartley promises there will be "a lot more tears." Sitting on a Greenwich Village rooftop in New York City before hosting a MorningStar lunch, Hartley reveals some This Is Us Season 3 details that will have fans creating new theories while reaching for the Kleenex.
As audiences know, avoiding This Is Us theories is a near-impossible feat; and the same goes for the show's cast. Hartley, who plays Kevin Pearson on the NBC drama, tells Elite Daily how the cast reacts to the infinite fan theories on the internet. "[The theories] get brought to my attention more often than not because there are five of us on set all the time and everyone's like, 'Did you hear this one?'," he says. "Some of them are pretty creative... like wow, there are some writers out there. And then some of them are completely off-the-chain crazy, but still good and interesting."
As for the most out-there one he's ever seen? He tells me, "I read one that said Jack was never alive and then it went on to say that he was a figment of Rebecca's imagination and the kids were never alive and I'm like, I don't even understand that. I don't know what that kid was smoking, but as far as I know that's not what we're doing."
It just is a reminder of what we haven't seen so far and how much of the story there is left to be told.
The show ended Season 2 with a series of cliffhangers: Randall was far into the future with his grown-up daughter Tess heading off to see a mystery person, Kate was helping a depressed Toby in bed, and Kevin was on a flight to Vietnam with Zoe. Since fans are desperate for more, Hartley reminds fans there's a lot more to look forward to in Season 3. "We're in for a lot more, we just have a lot more tears. There will be a lot more laughs as well, but it just reminds you how little of this story we've seen," he says. "It's only been two years, it's 36 hours, we've seen such a small portion of these people's lives and when you see things like that ... it just is a reminder of what we haven't seen so far and how much of the story there is left to be told."
For Kevin specifically, Hartley says he still has a lot of to uncover about himself, and that small glimpse into the future is just the start. "We saw at the end of Season 2 that [Kevin] takes a little trip with Zoe, he's on an airplane and they're landing in Vietnam and so he's... going there to maybe retrace some steps of his father, maybe find some answers to some questions that he has that he might not have been able to get the answers to in any other case," Hartley says. "In his sort of quest to find out more about his father, which is sort of a quest of self-exploration as well... hopefully, he's able to solidify that bond with his mom that he has now. And I think he can ask her questions about his father and find out a bit more about him through her. He's certainly made amends with Randall and he's working on that Miguel thing, which is tough for him, but I think he's coming around."
This Is Us Season 3 will return this fall on NBC. Hartley promises, "Three is our biggest one. Just logistically what we're going to do, I think it's bigger than one and two put together.. It's quite a massive undertaking. We go back to work in no time and then we'll have it ready for you in September."