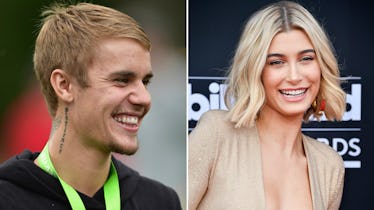 Here's What Justin Bieber Was Reportedly Thinking When He Proposed To Hailey Baldwin
Stuart Franklin & Frazer Harrison/Getty Images Entertainment/Getty Images
Surely, by now, you've heard the outrageous news. Justin Bieber reportedly proposed to Hailey Baldwin and the public can't handle it. Simply can not. Eyewitnesses of the reported proposal claim Bieber got down on one knee in the Bahamas where he and Baldwin were vacationing. Now, new insiders say they know what was going on in his head. Justin Bieber's thoughts while reportedly proposing to Hailey Baldwin are so sweet and also similar to any regular Joe's emotions while making a huge commitment. Still, I've said it once and I'll say it again - I'm never mad at Justin Bieber. I love to love you and all your decisions, boy. Elite Daily reached out to both Baldwin and Bieber's teams for comment on their reported engagement, but did not hear back by the time of publication.
According to TMZ's sources, Bieber reportedly asked guests at the Bahama's resort he and Baldwin were staying at to put away their cell phones because something "special" was about to happen. The rumored engagement came as a shock to fans, but based on new reports, it sounds like Bieber might have had this planned for a while. An insider told People magazine, "Justin picked out the ring before they flew to the Bahamas. He took Hailey on a special trip to propose. She didn't know." The source also added, "He knew a couple of weeks ago that he wanted to propose. He sees marriage as something very special. He would never propose if he wasn't crazy about Hailey." Elite Daily reached out to Bieber and Baldwin's teams regarding the new report but did not hear back by the time of publication.
"It might seem spontaneous, but it wasn't," said the source. "He felt in his heart that this was right. He doesn't want Hailey to ever be the one that got away."
So, what was Justin thinking before popping the question? Just what anyone might be thinking before making a massive, life-changing decision, apparently. The source said Bieber was definitely feeling the nerves. "Nervous but excited," they said. "He is super happy that she said 'Yes.'"
Bieber foreshadowed his reported engagement to Baldwin in a now eerily serendipitous interview with GQ magazine in 2016. At the time, the two celebs were just friends, but Bieber admitted she was someone he "really loves." He told the magazine,
What if Hailey ends up being the girl I'm gonna marry, right? If I rush into anything, if I damage her, then it's always gonna be damaged. It's really hard to fix wounds like that. It's so hard. I just don't want to hurt her.
In a much more recent interview with UK's Sunday Times, Baldwin also reflected on their relationship's journey. She told The Times back in May 2018,
I met him when I was really young and he was one of my best friends. Everybody knows that at a certain point in time that turned into something else, but that just happens when you're 18, 19. It was what it was.
She added there was a long stretch of time that passed where they didn't speak. Luckily, they've since "moved past that."
Clearly.
While both Baldwin and Bieber have yet to confirm their engagement, Bieber's parents are definitely celebrating something. His mom posted the word "love" seven times on Twitter and his father, Jeremy Bieber, shared a picture of his son at sunset.
Jeremy captioned the photo, "@justinbieber Proud is an understatement! Excited for the next chapter!"
Fans are dying to hear it straight from the singer or supermodel's mouths, but for now, there's always regular ol' social media stalking.
Congratulations, guys! I think!
Check out the entire Gen Why series and other videos on Facebook and the Bustle app across Apple TV, Roku, and Amazon Fire TV.