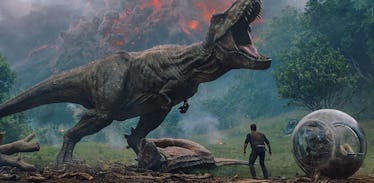 'Jurassic World' Ratings Are In & They're Pretty Much What Fans Expected
Universal Pictures
Jurassic World: Fallen Kingdom is the fifth installment in the franchise based on the Michael Crichton-penned novel about an island full of dinosaurs, which functions as a theme park for humans to interact with wondrous creations of technology and science. When it's direct predecessor and franchise reboot film, Jurassic World, came out three years ago, it smashed the all-time opening weekend box office record, so fans have high expectations for the follow-up. Now Jurassic World: Fallen Kingdom's ratings are in, and the results are almost exactly on par with the last film.
The film doesn't arrive in theaters until nearly the end of the month, but the review embargo lifted this week, populating the Rotten Tomatoes algorithm and giving fans a good idea where the film stands in the overall franchise. While there will still be fluctuations as more reviews roll in over the next few weeks, the initial response settled on a nice solid 70 percent fresh, not high enough for a "Certified Fresh," but certainly no slouch either.
That's almost exactly the same as the original Jurassic World of 2015, which stands at 71 percent. This might not seem like a big deal, but if fans look back at when the original trilogy was released in the 1990s, only the original 1993 Jurassic Park has a good rating. (It ranks at 92 percent, certified fresh!) Both follow-up films, 1997's Lost World: Jurassic Park and 2001's Jurassic Park III, scored at 53 percent and 50 percent, respectively.
Of the good reviews, the theme seems to be the film has finally managed to escape the theme park roots of the original and tried for something different, which is to be lauded.
The Hollywood Reporter's bottom line, for instance, is:
A thrill ride that finally escapes the theme park.
While Variety says the dinosaurs take a bit of a back seat:
The fifth entry in the Jurassic series, and the first that plays less like a thunder-lizard spectacular than like a '70s disaster movie run amok. Oh, don't get me wrong: The film provides plenty of encounters with our stomping, gnashing primeval-beastly friends — yet for much of Fallen Kingdom, they are caged, shackled, sedated, wounded, and otherwise subdued
And Vanity Fair provides a backhanded compliment:
But at least Fallen Kingdom considers the idea of letting go, making it a more thoughtful and interesting film than its immediate predecessor.
What does this mean for the box office? The first Jurassic World also ranked right at the 70 percent line and it grossed $1.6 billion worldwide when all was said and done, as well as knocking 2012's The Avengers off the all-time opening weekend box office perch with a $208 million opening. Fans are wondering if this could be a repeat performance. Once again, another Avengers installment holds the all-time record, Avengers: Infinity War, with $258 million. Could Jurassic World: Fallen Kingdom play spoiler with $259 million?
According to Variety, it's not likely. The current long-range box office tracking numbers show that the film will bring in somewhere around $140-$150 million. But then again, long-range estimates got the 2015 film very wrong, tracking it to maybe "break $100 million," only to see it do double that amount.
But according to Box Office Pro:
...comparing social media trends for this sequel to the 2015 film could be hit and miss due to severe under-tracking three years ago, Kingdom's same-point metrics are comparable to those of fellow Chris Pratt-led sequel Guardians of the Galaxy Vol. 2. That title bowed to an excellent $146.5 million as 2017's summer opener, legging its way out to nearly $390 million domestically.
Could Pratt and Blue surprise again? Or has the dino fever worn off enough to leave Avengers in the top spot? Fans will find out in a few weeks. Jurassic World: Fallen Kingdom opens in the U.S. on Friday, June 22, 2018.