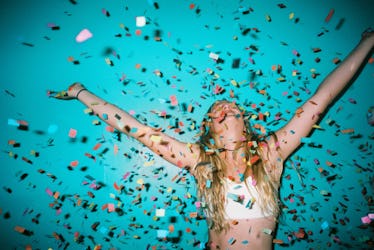 These 3 Zodiac Signs Will Have The Best Week, So Don't Sleep On It
When it's the week of the full moon, you know that revelations and rewards are about to burst through your world like confetti. All of the intentions that you've set a few weeks ago will come to fruition on June 28, when the full moon enters ambitious and no-nonsense Capricorn. I'm sure you're dying to know who will revel in this energy the most, so as of June 25, 2018, this will be the best week for these zodiac signs: Cancer, Leo, and Capricorn.
Even if the full moon reveals difficult truths, as it so often does, this week would be brimming with planetary goodness even if it was forced to sacrifice all the lunar magic. The sun is currently blazing through Cancer season, flooding our hearts with love and intuition. As Mercury enters fiery glamorous and auspicious Leo on June 29, you will begin seeing the world through a golden-lens and diamonds will be shining in your peripheral vision. There's beauty lurking in every corner, and under such planetary fortune, there's no reason why you can't bask in it.
All of the positive thoughts and comforting prospects flooding your world this week are only building up to something. When the full moon bathes your soul in celestial light, the truth of that "something" shall inevitably be revealed.
Cancer: There's No One Else You'd Rather Be Than You
When the sun is in your first house of the self, you are charged with electricity and catapulted toward action. You commit to every decision with your entire self, and you accomplish tasks with that same level of vitality. This week, your presence is radiating power, and Cancer will continue to have this galvanizing effect on you for the next few weeks. Now is the time to take every strengthening opportunity you come across, to put yourself to the test, to do something big. You won't regret it.
When the full moon in Capricorn lights a fire in your seventh house of partnerships, you may feel like making a promise to someone on a serious level. If you're both on the same page, dive deep into commitment. However, if you feel like your partner needs more time, don't push the issue.
Leo: In Your World, Anything Feels Possible
When Mercury roars in your name, blasting your first house with full force, you're experiencing ultimate intelligence and social awareness. Under this energy, you're like one big shiny object attracting everyone in the room. You'll feel compelled to engage in stimulating conversations, engage an audience with your sharp-tongued wit, and put your shimmering brain to use. With so many brilliant ideas flowing through your mind, there's no way you won't feel inspired to embrace your smarts.
With the full moon in Capricorn reorganizing things in your sixth house of health and productivity, you'll feel like replenishing your mind and body as well as accomplishing tasks that need to be done. Let it be a night of rejuvenation and self-care, and the results will be enormous.
Capricorn: You Can Accomplish Anything You Want
The full moon is hanging its glowing orb of light across the night in your name. The wolf within is bound to come alive, and if you're hungry enough, there's nothing you can't sink your teeth into. It's not always easy for you to grab onto your emotions and use them. However, on this eve, your deepest desires and hidden talents will float to the surface. The mirror to your soul will feel so validating, and you'll be able to make all the right decisions, commit to all the right moves, and feel fully engaged with your driven self.
All of this will help fight the effects of the sun opposing Saturn, your ruling planet. You're a strategic worker and no stranger to discipline. However, sometimes the best laid plans lock you in. It would be wise at times to move with the wind, rather than fight it.