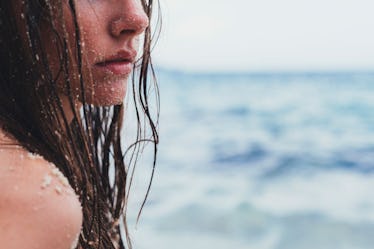 These 3 Zodiac Signs Will Have The Worst Week, But Here's Some Advice
We've been going through some majorly intense astrological times, and I know things haven't been easy. Even with the longest and most transformative total lunar eclipse of the century finally behind us, the mayhem is truly just getting started. Mercury retrograde is well underway, and it's distorting perceptions, weakening judgement, and confusing our most basic functions. If you're a follower of astrology, you're probably well aware that there are few cosmic transits as painful as Mercury retrograde. And to top it all off, there are still five other planets in retrograde as well, including fiery, aggressive, and angry Mars. Are you hyperventilating yet? Well, I want you to take a deep breath, because I'm about to tell you that as of July 30, 2018 will be the worst week for these zodiac signs: Aries, Gemini, and Scorpio. Remember that if your rising sign lies in any of these signs, you'll feel the damage even more intensely.
However, try not to let any of this news get you down. Despite everything, you always have free will, and you absolutely have control over your own destiny. Even when there are draining eternal forces meddling with your life, the power to shut everything out lies within you.
Aries: You Might Be Wildin' Out And Pushing Too Hard
As you may already know, your ruling planet, Mars, is in retrograde all summer long. Since fire-breathing Mars is also in your 11th house of community, there's a chance that your summer has been full of more drama with your friends than you'd like to admit. You could find yourself breaking away with old social circles due to disagreements. However, there is still much to be learned through all the conflict, and at the end of the day, you do have control over your impulses.
Luckily, with the sun in your fifth house of pleasure, the drama doesn't matter because you're having the time of your life exploring the world on your own terms. However, be careful of taking the fun too far. Mercury retrograde also happens to be in your fifth house, and it may tempt you into sacrificing your priorities for the same of indulgence.
Gemini: You Might Be Talking Yourself Into Trouble
You're a naturally dramatic zodiac sign. However, your mouth may be landing you in more drama than you're comfortable with. With Mercury, your ruling planet, currently rolling backwards in retrograde in your third house of communication, you have a higher probability of delving into toxic gossip, spilling the beans, and speaking way more bluntly than you should. Just hold it together for a few more weeks, Gemini. Practice patience and restraint when choosing your words, and you'll be fine.
However, just because you should be engaging in a more quiet time doesn't mean it can't be fun. With Venus, planet of romance and friendship, gliding gracefully through your fourth house of home and family, it's clear that you're being asked to nurture your nest and take care of your most intimate needs at the moment. At home, you'll find the joy you're looking for.
Scorpio: You May Be At A Crossroads In Your Life
Mars, your ruling planet, is still in retrograde. Now, I know you're probably sick of hearing this, but it inevitably brews trouble, especially in your fourth house of family and the home. With so much festering energy, conflicts and quarrels with your family members and roommates are more likely to occur in explosive bouts. Your space may even be taking on a new and uncomfortable shade, pushing you to make a change in your home base. Take deep breaths through all the madness, for at the end of this journey is such a deep level of peace and calm that it will all feel worth it.
However, with Venus, planet of friendship, love, and money, in your 11th house of community, it's clear that you're not meant to be spending time at home at all. Instead, you should be out there pursuing social settings, meeting and mingling with new faces and reacquainting yourself with old ones. For now, let the world be your home instead.