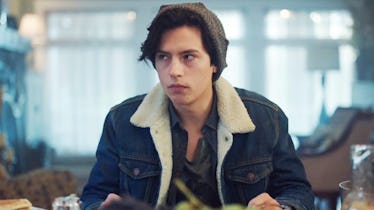 Jughead's Mom & Sister Will Finally Be In 'Riverdale' Season 3 & It's About Time
The CW
Season 3 of Riverdale isn't premiering until October, but thanks to the cast of The CW hit's panel at Comic-Con, we have a few juicy tidbits about what we can expect from new episodes. Jughead managed to survive his bloody assault at the end of Season 2, but such a near-death experience didn't even inspire his seemingly estranged mother and sister to show up at the hospital. Anyone waiting to know about this understandably complex relationship is in luck, because Jughead's mom and sister will finally be in Riverdale Season 3. Get ready for an awkward family reunion!
Riverdale has previously established that Jughead's mother, Gladys, and sister, Jellybean, moved away to Toledo, where they now live with Jughead's grandparents. FP Jones's drinking problem drove them away, leaving Jughead often neglected by his father. Although Jughead has a difficult relationship with his dad, the father-son relationship ended on a higher note in Season 2 as FP named Jughead the new King of the Serpents. That calmer connection between Jughead and FP may change when the rest of their family shows up, which the cast hinted will happen about halfway through the third season.
Cole Sprouse confirmed at the show's Comic-Con panel that the mother-daughter duo will visit their family, but he has previously suggested that he didn't want the show to rush into introducing the characters. Tossing in two new characters as the plot of Riverdale deliciously thickens is sure to create intense drama, but as Sprouse said in an interview with Entertainment Tonight, the addition of vital characters could take away from original characters' storylines. He told ET:
We don't know anything about Jellybean just yet. This is one of those dilemmas that I think we face because we have such a massive ensemble of characters. And often times I think some characters deserve more justice narratively than what we're able to provide in the first nine episodes. So the introduction of additional characters is kind of a dilemma that we have because it means possibly less screen time for characters who already haven't got enough.
OK, Sprouse made a fair point, but I'll low-key pretend he was reluctant about new characters so his twin Dylan wouldn't crash the Riverdale set as Jellybean. Sprouse joked to ET that Dylan was his dream casting choice for Jellybean, saying, "Dylan was a big one for me. But he said no. It was a scheduling conflict."
So, no twinning action ahead in Season 3, but do you think Sprouse could just pull a Parent Trap and play Jellybean himself? Thanks to what I'd like to call a classic episode of The Suite Life of Zack and Cody, the internet seems to think so.
In all seriousness, it doesn't appear that the show has officially hired actresses to play Gladys and Jellybean yet, but some of the cast has suggestions. Skeet Ulrich, who plays FP, has previously shared that he'd love to reunite with his Scream co-star Neve Campbell if she stepped into Gladys' shoes, but anything could happen when it comes to finding the newest residents of Riverdale.
In the Archie's Pal Jughead comic series, Jellybean is only seen as a baby who earned her unusual nickname when she was born in the back of a van thanks to a traffic incident that an overturned jellybean truck caused. The character will likely be aged up for Riverdale, so if you're into talking genius babies, you might want to find another outlet that will provide that.
Season 3 of Riverdale premieres on Wednesday, Oct. 10, at 8 p.m. ET on The CW.