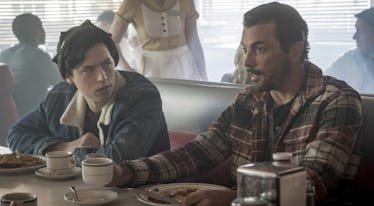 Jughead's Mom & Sister Are Going To Be On 'Riverdale,' So Get Ready For Some Jones Drama
CW
If you thought keeping up with the Joneses was difficult before, Riverdale's resident down-and-out family is about to get twice as dramatic. That's right — we are finally going to be meeting Jughead's mom and his sister Jellybean pretty soon, and they will undoubtedly be bringing some twists and surprises with them when they come into town. So, what can we expect now that Jughead's mom and sister are coming to Riverdale? Let's break it down.
The new arrival news comes from TV Line, which reported that an executive producer on Riverdale assured "they're coming" when the topic of Jughead's unnamed mother and oft-mentioned but never-seen sister Jellybean came up. F.P. Jones actually hinted at Mrs. Jones and Jellybean finally returning to Riverdale in the most recent episode of the show, revealing that Hiram Lodge offered him a penthouse apartment that would be big enough for the whole Jones family. If Jughead's mom and Jellybean do come back to town to live in that penthouse with F.P. and Jughead, it would be the first time that we see them on the show.
In case you may have forgotten the backstory (it's been a while since we heard it so I don't blame you), here's a refresher: Jughead's mom (whose name we still don't know) raised Jughead and Jellybean with her husband F.P. in Riverdale up until the point when F.P. got fired from Andrews Construction and became an alcoholic. Fed up with her husband's enraged, alcohol-induced outbursts, she took Jellybean and moved to Toledo to live with her parents. In Toledo, she has gotten a job at a call center and is working towards her G.E.D. It is unclear whether she and F.P. ever legally divorced or not.
After F.P. got arrested for Jason Blossom's murder towards the end of Season 1, Jughead called his mom and made a plan to go live with her in Toledo, but she told him that it was not a good time for him to come, which might suggest a bit of a tense relationship between Jughead and his mother.
Everything else about Jughead's mom and his sister Jellybean remains a mystery, so it is definitely a rich area for Riverdale to explore, and one that fans have been curious about for a while.
The next big question is when exactly Jughead's mom and Jellybean are going to be making their Riverdale debut. The executive producer's vague "they're coming" tease is far from specific, but showrunner Roberto Aguirre-Sacasa was more helpful on the subject at Comic-Con last summer. A bit after Season 1 wrapped in the summer of 2017, Aguirre-Sacasa hinted during the Riverdale Comic-Con panel that Jughead's mom and Jellybean may appear in the second half of Season 2. Given that we only have five more episodes to go in the second season, I would say that it sounds like Jughead's mom and sister are going to be showing up in town pretty darn soon.
Now all that is left to speculate about it what the return of Jughead's mom and his sister Jellybean could mean for the story. Jughead has been a bit at odds with his father for the past few episodes, with Jughead hell-bent on exposing Hiram Lodge as a villain and F.P. willing to accept gifts and help from the town bigwig, so maybe the return of the rest of the Jones family will somehow complicate that dynamic. Another possible ripple is that Jughead's mom presumably grew up in Riverdale as well, so she might know some secrets about the town's parents that we have not uncovered yet. One thing is for sure: the Jones women will definitely be bringing some fresh drama to the town.