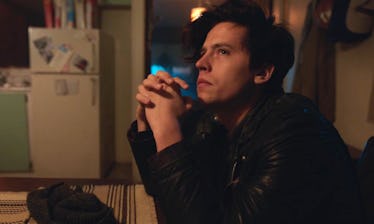 FP Jones Just Opened Up About That Jughead Cliffhanger In 'Riverdale' & It's Really Funny
The CW
Riverdale fans, how are you coping since that epic Jughead cliffhanger? Things aren't looking too good for Riverdale High's resident weirdo-turned-Serpent-leader after an epic fight with the Ghoulies, and now, I'm practically counting down the days until we learn Jughead's fate in the Season 2 finale. Amid all this bad news, there is a small silver lining to this potentially deadly story line: Jughead's cliffhanger on Riverdale has a funny story behind it, and all the Cole Sprouse stans (which is all of us, duh) will get a kick out of it. Sure, listening to Skeet Ulrich, aka FP Jones, talk about that major scene probably won't make you forget that Jughead might be dead, but it will definitely help distract you from those dark thoughts.
Spoiler alert: Do not keep reading if you have not seen Riverdale Season 2 Episode 21 "Judgment Night" yet. In the penultimate episode of Season 2, Jughead makes the ultimate sacrifice when he gives himself over to the Ghoulies in order to prevent a gang war that would devastate the Serpents. The dozens of Ghoulies — led by Penny Peabody, a former Serpent who wants revenge on Jughead — beat up Jughead mercilessly, and at the very end of the episode, FP carries his son's limp body in his arms. Jughead is badly beaten, bloody, and unconscious, but it's not clear whether he's actually dead.
Yes, this is all super depressing, but Ulrich insists that filming the jaw-dropping scene was much more lighthearted. In an interview with Entertainment Tonight, Ulrich said that when he first read the scene in the script, his initial reaction was, "I hope he diets." He continued:
I was like, 'I wonder how heavy Cole is?' In fact, that's actually what they — they called me... from the writers' room, like weeks before they even wrote it, they were like, 'Can you carry Cole?' And I was like, 'Yeah, I can carry him.' And they were like, 'Oh, can you go over to his trailer and send us a picture of you carrying him?' And they actually sent a PA to take video of me picking Cole up.
OMG, can we see this video? I need it in my life ASAP. If you've watched the episode, you know that Ulrich can definitely carry Sprouse (and he looks pretty hot doing it, if I do say so myself), so either the writers think that Sprouse is a very large person, or they don't have much confidence in Ulrich. Either way, filming Riverdale must be super heavy, so I'm happy to know that the cast and crew got to have at least a little fun filming the scene that broke America's hearts.
Weight issues aside, Ulrich said that reading that scene in the script was "traumatic," especially as a real-life father:
In terms of reading it, it's traumatic. It's every father's worst nightmare, their kids being hurt ... [Fans] should be worried.
Yeah, Skeet, it was traumatic. If Jughead winds up being dead, I don't know what I'll do. Betty thinks that she has chemistry with Archie, but we all know that Bughead is the only way to go.
I've always been a firm believer that Riverdale wouldn't kill off one of their core characters, but now, I'm not feeling so confident. After "Judgement Night" aired on Wednesday night, Sprouse tweeted a message to Riverdale fans that definitely made it seem like Jughead's story is almost over.
OK, now I'm freaking out. Sprouse is a big-time troller, so it's possible that this is just one of his (totally unfunny) jokes, but it's also possible that he's serious. Riverdale has been killing off characters right and left in Season 2, and although none of those characters have been major players, their deaths have still been felt by fans. Would Riverdale take things to the next level in the finale by killing off Jughead? Anything can happen in this show, so yeah, I'm going to need a milkshake from Pop's to calm down.
The Riverdale Season 2 finale, "Brave New World," airs at 8 p.m. ET Wednesday on The CW.