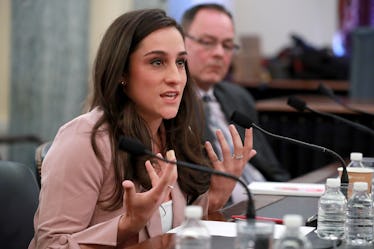 Olympian Jordyn Wieber Called Out A Culture Of Abuse In Her Senate Testimony
Chip Somodevilla/Getty Images News/Getty Images
Will these Olympic ladies ever stop being so inspiring? I doubt it. Jordyn Wieber's Senate testimony discussed the huge problem of sexual abuse among Olympic circles, and how it's been unacknowledged for too long. So, this Olympian is calling for changes, and I'm totally on board.
On April 18, Wieber spoke to the U.S. Senate about the significance of the Larry Nassar case. Nassar is the former USA Gymnastics doctor accused of abusing over 200 young athletes, who was convicted on sexual assault and child pornography charges in January. Wieber not only shared her story of abuse, but highlighted a huge issue within the Olympic community, and that's the lack of action being taken to support victims and end this cycle of abuse. In her testimony, Wieber criticized the USA Olympics and fellow organizations for not taking immediate action when athletes came forward about the abuse.
"Nobody was protecting us from being taken advantage of. Nobody was even concerned whether or not we were being sexually abused," Wieber said. "The people and organizations who are responsible need to accept responsibility for the pain they caused me and my sister survivors."
Wieber has coined this reoccurrence as a "culture of silence," and said that organizers and Olympic officials allegedly had knowledge of occurring abuse, but didn't take action against it.
Wieber also filed a lawsuit on April 17 against USA Gymnastics, the United States Olympic Committee, and Michigan State University for not coming to victims' defenses in the past.
According to Wieber, the abuse from Nassar started at age 14 and she endured ten instances of abuse over a six-year period. Wieber released a statement saying she was "betrayed" by the USA Olympics Committee and Michigan State.
She said,
My parents trusted USA Gymnastics and Larry Nassar to take care of me and we were betrayed by both. And now, the lack of accountability from USAG and Michigan State, have caused me and many other girls to remain shameful, confused, and disappointed.
Wieber's testimony against Nassar followed Aly Raisman, McKayla Maroney and Jamie Dantzscher, who were among the first to bring their stories forward and also sued organizations including the United States Olympic Committee (USOC), USA Gymnastics, and Michigan State. Since their testimony, more than 200 girls have come forward claiming they were abused at the hands of Nassar as well.
Some changes are already underway to secure the safety for Olympic athletes. On Jan. 22, the USA Gymnastics Board of Directors resigned in light of Nassar's sexual abuse case. Kerry Perry, president of USA Gymnastics, released a public statement speaking to the board's resignation and how it should help change "move forward" within the organization.
Perry said,
We support their decisions to resign at this time. We believe this step will allow us to more effectively move forward in implementing change within our organization. The organization will continue working every day to ensure that our culture, policies and actions reflect our commitment to those we serve.
New board members are certainly a step in the right direction, but that's only one fix to address a huge internal problem within this community. On Jan. 30, the U.S. Senate passed legislation to require U.S. amateur athlete organizations to investigate abuse and suspected incidents as soon as possible. The act, titled "Protecting Young Victims from Sexual Abuse and Safe Sport Authorization," is a direct result from the case against Nassar and was spearheaded by Sen. Susan Collins.
All these changes are definitely steps in the right direction, but perhaps the biggest impact from the Larry Nassar case is letting victims know that their stories are important and their voices are being heard. Hearing the victim statements from the likes of Raisman, Wieber, and Dantzscher were tough to bear, but watching how these brave and strong women encouraged others to step forward and fight this system of abuse is something that's truly historical.
Here's to strong women. May we know them, may we raise them, may we be them.