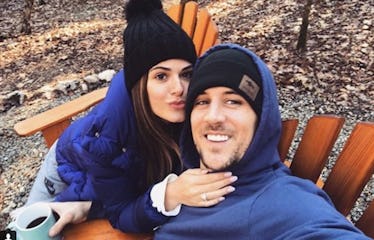 Jordan Rodgers Opens Up About Having Kids With JoJo Fletcher & I'm Screaming – EXCLUSIVE
Jordan Rodgers/Instagram
Boys, if you're trying to woo your lady this Valentine's Day, then you better listen up. Former Bachelorette winner Jordan Rodgers shared his plans for the special day with JoJo Fletcher and I've gotta be honest – I'm pretty jealous. Not only did the 29-year-old former football quarterback get his fiancée the funniest gift and say the sweetest things, but he also opened up about her baby fever. That's right, Jordan Rodgers talked about having kids with JoJo Fletcher and I'm screaming. Get ready to feel all the feels, people.
Let me start at the beginning: Rodgers partnered with Captain Morgan to promote their new Pose Pants. For Valentine's Day, Rodgers decided to say "I love you" in a non-traditional way – by giving Fletcher some sexy shots of him rocking the boxer briefs. Rodgers explains what drew him to the idea: "I can get very sentimental and very romantic... there's a part of that I love about Valentine's Day... the other part is, I like to laugh a little bit... self-deprecation is right up my alley, I think it's hilarious, so when I got the idea I was like 'hell yeah!'"
Hell yeah, indeed. But JoJo Fletcher isn't the only one who will get a framed photo of shirtless Rodgers in the mail. "The best part is I'm gonna send all my guy friends these... and they're gonna be like 'what?' It's super funny," Rodgers adds.
What a great surprise! If one of my girl friends sent me a topless photo of them in only their underwear, I'd probably call the cops. BUT THAT'S BESIDES THE POINT. The point is JoJo Fletcher is a very lucky lady. Rodgers laughs, "I haven't showed her pictures yet... I sent her a text while we were doing it like 'just wait 'til you see these,' so she's gonna laugh. Maybe I'll find one of the funniest pictures and frame it and give it to her like, 'Oh, babe, this is a serious gift. Happy Valentine's Day!'" A match made in heaven.
JoJo Fletcher and Jordan Rodgers have obviously been going strong since their Bachelorette days. Unlike most couples who successfully leave the franchise, Fletcher and Rodgers are taking things slow when it comes to their engagement. When asked about where they're at in terms of planning their wedding, Rodgers explains they're just "enjoying figuring out life." He says, "We don't have a date, we don't have a plan yet ... We're just enjoying every chapter... She's super busy, I'm super busy. Nothing has changed — it's not like we're second-guessing anything."
Although Rodgers assures me the couple is taking things slow, it sounds like Fletcher has other plans. Rodgers explains, "I will tell you this, though: Both of her brothers are expecting their first child... I think one April 1, one maybe at the end of March, so baby fever is coming." He adds, "I'm like, 'Woahhh! There's a couple of steps before we get there!'"
When asked to elaborate on his fiancée's desire to have kids, Rodgers says, "It's like the best and worst thing. The worst: She's got mad baby fever and I'm like, we gotta get married first! The good thing about it, though, is she's gonna get to be an aunt, times two. She's gonna get all the baby out of her and spend all the time with babies she wants and [get it out of her system.]"
Rodgers did make it clear he shares the same goals as Fletcher and wishes to grow their family... just when the time is right: "Mom is more than ready for that, and JoJo's mom and parents [are] as well."
For now, the couple is just enjoying their time together and taking things easy. Rodgers shares, "We're so much more about spending quality time. It's one of my love languages. She loves words of affirmation, so I always make sure I do something very sentimental, and something that shows her how much I care about her."
Rodgers and Fletcher also share a fun hobby — watching "really dark murder dramas." Rodgers says, "We just finished The Killing, Ozark, The Fall... The Unabomber... it sounds like we have no life other than this."
Wow, life after The Bachelorette sounds lit! Just kidding, you still sound cooler than I am. If you'd like to get on Rodgers' level this Valentine's Day, buy yourself or your loved one a pair of Captain Morgan's Pose Pants.
Jordan, thanks for letting it all out. Literally.