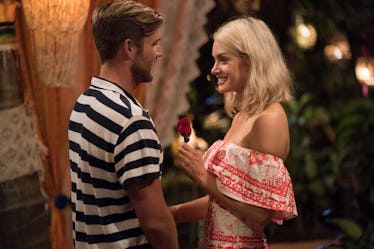 Jordan & Jenna Got Their Happy Ending On 'Bachelor In Paradise' In The Best Way
ABC
Who would've thought that the model in gold underpants from The Bachelorette would become one of the most lovesick contestants on this season of Bachelor in Paradise? After a bumpy start in Paradise, Bachelorette Season 14's Jordan Kimball fell head over heels for Bachelor Season 22 star Jenna Cooper. Jordan had to deal with some other men vying for Jenna's attention, but despite the drama, the two picture-perfect blondes were clearly meant to be. Jordan and Jenna got engaged on Bachelor in Paradise, and they should start planning this Barbie Dreamhouse wedding ASAP.
Before Jenna arrived in Paradise, Jordan briefly dated Annaliese Puccini, who was practically envisioning their future lives together by the end of their first conversation. However, when the bubbly, pink-haired Jenna hit the beach, Jordan was in awe of the social media manager originally from Indiana. Although their jobs could easily transform them into a power couple taking the Instagram modeling world by storm, we've also witnessed a surprisingly real side of Jordan in his relationship with Jenna. Half of what he says might be a little nonsensical, but when it comes to Jenna, Jordan can actually be quite the supportive partner. Does "professionality" also teach you how to be a good boyfriend?
Leading up to Paradise's proposal day, Jenna and Jordan went on a date asking them to pose for very premature engagement photos. While Jordan was in his comfort zone in front of the camera, unexpectedly donning a wedding gown upset Jenna more than she expected and created a "ball of anxiousness" inside her. The old Bachelor trick of freaking out contestants in bridal wear hasn't been used in awhile, but as expected, the reality of what she had gotten herself into sent Jenna into a panic.
Jenna admitted to Jordan that the first time she wore a wedding dress spurred on feelings about him being more than she ever thought she needed. In one of those moments where Jordan reminds us he's not a robot, he also confessed that his feelings for her were intense and real. What better way for them to commemorate the heartfelt conversation than trashing their tux and gown in the ocean?
The arrival of Paradise mainstay Robby Hayes also caused some tension for the couple when Robby, aka Jordan's clone, showed interest in Jenna. Luckily, Robby's interference didn't last too long. Jenna and Jordan ultimately ended up in the fantasy suite, where they exchanged "I love you's" and Jenna revealed she believed God sent Jordan to her.
After their reassuring night together, Jenna was confident enough to walk towards Jordan on the infamous Bachelor Nation Deck of Proposals (that's the official term, right?). And although she was clearly nervous approaching Jordan, muttering a curse word under her breath, she took a deep breath and took his hands. Jordan talked about how he fell in love with her at first sight, got down on one knee, and the rest is Bachelor history.
Congrats, Jenna and Jordan! May your future be filled with plenty of Barbie and Ken-themed Halloween costumes.