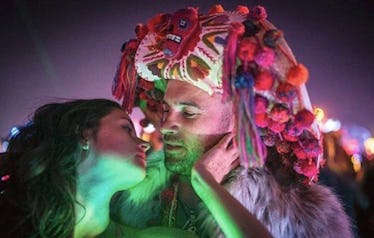 Jordan & Jacqueline From 'Bachelor In Paradise' Broke Up, According To Jordan's Bitmojij
Instagram/@trumbullina
Another Bachelor in Paradise relationship bites the dites. Well, technically Jordan Mauger and Jacqueline Trumbull didn't even overlap during their respective times on BiP Season 5, but they did find their way to one another after filming wrapped. Who says you can't find love at Burning Man? The cute couple apparently hit it off at the Nevada desert festival and confirmed their courtship in September. Welp — sad news, folks: Jordan and Jacqueline from Bachelor in Paradise broke up.
According to People, Jordan admitted that the pair's fling had fizzled in an Oct. 9 Instagram Story answering "Nope" alongside his bitmoji when a fan inquired about their dating status. "How about no" he reportedly stated when another follower pressed the subject. Jordan has removed photos of Jacqueline from social media. Jacqueline's images are still up. She shared a series of pics last month from Burning Man that documented moments from their short-lived romance. "More desert than beach people I guess..." she captioned a shot of them locked in an embrace.
Jacqueline was a contestant on Arie's Bachelor installment. She departed Bachelor In Paradise's fifth season almost immediately after not receiving a rose on her first night in Mexico. Jordan, a former Bachelor New Zealand leading man who appeared on February's Bachelor Winter Games, entered the same competition late in the game. Despite connecting with Cassandra Ferguson, he opted to leave before the Fantasy Suites since things weren't exactly serious between them. It looked like Jacqueline and Jordan might just go the distance post-Paradise, but alas... some reality TV match-ups aren't necessarily meant to be.
Jordan's Instagram reveals he's been spending time in the States over the past month. It looks like he even hung out with BiP alums Kevin Wendt and Astrid Loch in New York City just last week before returning to his native New Zealand. Jacqueline, who is based in NYC, also shouted out her own Bachelor pals on social media recently. "Wig nights, Adam Sandler movies, martinis, and first ever subway rides.... missing @laureneburnham and @seinnefleming already!" she captioned a sweet snap of her and Bachelor Season 14 ladies Lauren Burnham and Seinne Fleming. Hmm. Perhaps she'll snag an invite to Lauren and Arie's January Maui nuptials.
Jacqueline has not commented on the Jordan split as of yet. She did however take to Insta on Thursday to offer up an inspirational quote to her followers, as well some insight into where her mind's been. A portion of her caption read:
I've been thinking a lot this week about where I've fallen short, and how I can change. Perhaps my strongest value, though, is to consider other perspectives. Even when I'm angry, I know that I'm fundamentally capable of understanding the other person and their actions. It can make me an annoying devils advocate but it also helps me keep my faith in others, and our ability to connect.
Even though Jordan and Jacqueline didn't make it as a twosome, here's hoping they find what they're looking for in the romance department. Now that they're both single, perhaps Bachelor Nation will see them again on their TV screens in the future.