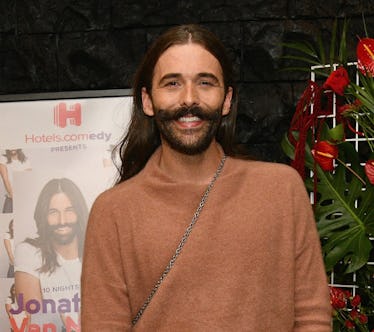 Jonathan Van Ness' Stand Up Show Is Everything You Want & More – EXCLUSIVE
Bryan Bedder/Getty Images for Hotels.com
When the Fab Five of Queer Eye aren't sending us on a search for tissues, they're usually making us laugh with their witty remarks and quotable catchphrases. Grooming expert Jonathan Van Ness is always prepped to deliver a humorous comeback at the perfect moment, and his latest web project focuses on that special ability to make people laugh. Jonathan Van Ness' stand-up show is exactly what you need until Queer Eye drops another season. Can you believe?
Van Ness tells Elite Daily that in between filming Season 3 of Netflix's Queer Eye and chatting up Claire Foy at the Emmy Awards, he spent his summer hitting the road in pursuit of comedy. Working with Hotels.com, the 31-year-old helmed a 10-night stand-up comedy tour across America, which was captured on camera for the website's first YouTube docuseries, Hotels.comedy Presents: 10 Nights with Jonathan Van Ness. After featuring footage of Van Ness' stage routines, the series then follows the star to his hotel room for a rundown of how his performance went. In a statement, Katie Junod, General Manager of the Hotels.com brand in North America, said of Van Ness, "He's constantly promoting positivity and cheering on people on his show. This was an awesome opportunity for us to return those good vibes to him and make sure he was taken care of in fabulous hotels while on the road and slaying his comedic dreams."
As much as Hotels.com wanted to be Van Ness' cheerleader on this journey, the Queer Eye star was initially reluctant to take the leap. After briefly doing stand-up away from the public eye, he posted on social media about performing at a friend's comedy show soon after Queer Eye's February 2018 debut. "I quickly realized this wasn't like a fluke thing that I thought I liked," he reveals. "It was actually something that I was really passionate about learning to do."
After seeing him document his performance, Hotels.com reached out about touring, but Van Ness balked. "I was like, "'Ah-ha, no. I cannot do a nationwide stand-up tour. You guys are crazy, thank you for thinking of me, I love you, no.'"
However, in true Queer Eye fashion, a moment of reflection changed his mind. "Sometimes I think we get scared to take opportunities because we may think that we're not deserving of them or someone else has worked harder," he says. "I realized that [comedy] was something I loved, it was an art form I'd loved since I was a kid."
Following its official launch on Nov. 12, the four-part series will show Van Ness performing his own comedic shows and then dropping in on friends' performances as a surprise guest. Recalling a Times Square show where an audience member wore a Make America Great Again hat, Van Ness admits that the spontaneous routines were the scariest part of the experience. Encountering various kinds of people on the road linked back to why the work of the Queer Eye cast is essential entertainment in today's politically and socially divided times.
"I think that visibility is so important," Van Ness says. "There is so much homophobia that is alive and thriving... At the end of the day, LGBTQ+ people want the same thing that their hetero-normative counterparts want. [Netflix] is in every country with the exception of North Korea, China, Crimea, and Sudan. So in countries like Pakistan, in countries like Brazil, there is so much visibility that has not taken place that needs to happen, and by no means is Queer Eye enough. It's like the tip of a baby queer iceberg that needs to be shown."
While 10 Nights with Jonathan Van Ness includes the heartwarming hilarity that made us fall in love with Queer Eye, Van Ness definitely isn't through with leading makeovers on the Netflix hit. The third season moved to Kansas City, Missouri, for production, and while famous celebs have yet to stop by during a makeover, Van Ness has an idea about who could provide stellar advice for the show's heroes. Who wouldn't want life advice from Betty White?
"She doesn't need a makeover of any kind, I would just want her guidance on any question I ever have for the rest of my life," Van Ness says, joking that Lifetime's daily The Golden Girls marathons contributed to him leaving college. "What red-blooded American gay man can turn off Golden Girls in the middle of a marathon? I've never met him."
The first two seasons of Queer Eye are currently streaming on Netflix. The first episode of 10 Nights with Jonathan Van Ness is available now on Hotels.com's YouTube channel.