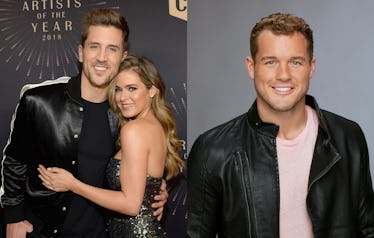 JoJo Just Compared Colton To Jordan, So Get Ready For An Epic 'Bachelor' Season
Rick Diamond/Getty Images Entertainment/Getty Images & ABC
At this point, Season 23 Bachelor Colton Underwood is so deep into his Bachelor filming that he's probably exhausted all of the cliches about being on a journey and having the right reasons during his one-on-one conversations with the ladies. While fans of The Bachelor won't know until January if Colton will truly rise to his new title, past Bachelorette JoJo Fletcher has high hopes for the former NFL player. JoJo's quotes about Colton being the Bachelor are totally optimistic, so here's hoping she's right about Colton's upcoming time in the spotlight.
Fresh off the launch of their YouTube web series Engaged with JoJo and Jordan, Season 12 Bachelorette JoJo and her fiancé Jordan Rodgers recently voiced their support of Colton at the CMT Artists of the Year event in Nashville. Their positive opinion isn't exactly a popular one in Bachelor Nation. As the fourth-place finisher on Becca Kufrin's Bachelorette season, Colton caused controversy on both The Bachelorette and Bachelor in Paradise because of the intense focus on his brief pre-show relationship with Becca's fellow Bachelor contestant Tia Booth. Soon after they declared themselves a couple on Paradise, Colton tearily broke up with Tia, feeling unable to fully commit to her. But Bachelor fame is fleeting, so when ABC approached Colton for the titular spot, he accepted, (hopefully) leaving his romantic ties to Tia behind.
Although she and Jordan are understandably more focused on their own lives than the latest Bachelor drama, JoJo is confident about Colton finding true love on the show. She even thinks Colton is pretty similar to Jordan, who has also played in the NFL and currently works as an ESPN college football commentator. JoJo told Entertainment Tonight:
I didn't follow [Becca's season] as much as I should have, but from the stuff I got to see, people loved him. He's a football guy, so [Jordan] can talk about that. I think he's gonna be great. I don't know that much. Hopefully he finds love this time and not trickles through a couple more girls.
JoJo's point about Colton following in Jordan's footsteps does make sense, and if love on The Bachelor doesn't work out, the 26-year-old certainly has a future of sports commentating in store for him. After short stints with the San Diego Chargers and the Oakland Raiders, the 26-year-old left football behind in favor of running the Colton Underwood Legacy Foundation, which provides resources for people living with cystic fibrosis. If Colton ever wants to add another job to his busy post-Bachelor schedule, I'm sure ESPN will be in touch.
This isn't the first time JoJo has avoided criticizing Colton during his time in the Bachelor franchise. While speaking to Elite Daily this summer, JoJo addressed The Bachelorette's Colton and Tia drama, saying:
People don't know the insides of every situation, they don't know what really went down. Obviously, Becca [Kufrin] and Tia are good friends. There's a reason why Becca's still friends with Tia. Everyone just needs to relax, everything's working out how it's supposed to. Take a breather and let's move on from it.
If the comparison between Colton and Jordan plays through, here's hoping that Colton doesn't copy the go-to haircut of literally every man from JoJo's Bachelorette season. Maybe we'll soon see JoJo, Jordan, and other successful Bachelor couples stop by the Bachelor mansion to give Colton some advice for finding his wife. Season 23 of The Bachelor premieres on Monday, Jan. 7, 2019, on ABC.