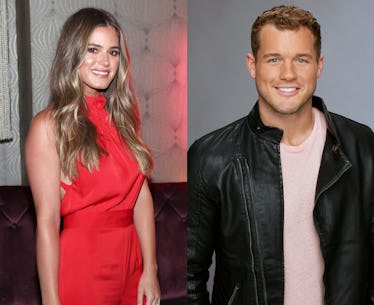 JoJo Fletcher Just Weighed In On The Colton & Tia Drama & She Makes A Good Point
Jerritt Clark/Getty Images Entertainment/Getty Images & ABC
Every Bachelorette has dealt with her own groundbreaking drama, but for current leading lady Becca Kufrin, she's weathered more than a few storms during her journey to find love. Contestant Colton Underwood's pre-show relationship with Becca's Bachelor co-star Tia Booth particularly stirred controversy when Tia returned to the show and confessed she still had feelings for the former NFL player. Bachelor Nation didn't take to the surprise lightly, but former Bachelorette JoJo Fletcher's response to the Tia and Colton drama reminds us that we all need to take a chill pill. JoJo and her Bachelor BFF Becca Tilley spoke to Elite Daily about these repercussions, and you're going to want to reconsider any bad feelings about Tia's breach of girl code.
Before hosting their recent Stacy's Girls' Night In event in Beverly Hills to celebrate the launch of Stacy's Cheese Petites, JoJo and Becca spilled on what they thought about Tia speaking her truth. Since her confession and Colton's subsequent elimination aired, the Arkansas native has been vocal about the online hate and abuse she received, and Bachelorette Becca even publicly defended her friend and their relationship. Strangers spewing negativity is no novelty to JoJo, who is still engaged to her own Final Rose pick Jordan Rodgers, and she was quick to say that obstacles such as Tia still liking Colton are natural in the Bachelorette process.
"I saw that a lot of people were really hating on Tia after that, and seeing all those comments were awful," JoJo says. "People don't know the insides of every situation, they don't know what really went down. Obviously, Becca and Tia are good friends. There's a reason why Becca's still friends with Tia. Everyone just needs to relax, everything's working out how it's supposed to. Take a breather and let's move on from it."
Becca also received criticism for the way she handled Colton's reveal of his virginity, but Becca Tilley has spoken to her fellow name twin about how well she has led the often controversial season. "I was direct messaging with Becca and was just telling her [that] she has just handled this season so well," she says. "I felt like [she and Colton] had a sweet connection, but I felt like it was very physical... So, I think after talking to Tia, it was kind of like a no-brainer, you know, what needed to be done."
If there's anything substantial that Bachelor Nation has learned from the Tia and Colton storyline, it's that neither Tia nor Becca blamed each other for the way the situation was handled. The women still valued the other's opinion and help while dealing with the question mark that was Colton. Their support of each other throughout the moment's backlash has only reverberated what is often the truth about the Bachelor franchise: sometimes, the friendships between contestants are the greatest reward.
JoJo and Becca, who first met on Ben Higgins' Bachelor season, remain a key example of that. While working with Stacy's Cheese Petites was an obvious decision ("cheese and carbs might be our top two things that we eat the most," JoJo admits), perfecting a cheese and wine palette together is only the beginning of how the two women keep in touch. They regularly FaceTime when they're apart, and both believe that making the time for each other is crucial in maintaining close bonds.
"Life gets so crazy, but life will always be crazy," JoJo says. "Always try to make that time, because friendships, at the end of the day, are so important. And you're going to be 90 years old and you're still going to be telling those stories about you and your girlfriends doing something."
Like any best friend duo, they also have solid ideas about how the current season of The Bachelorette may end. "From the beginning, I wasn't blown away with any of [Becca's] guys," Becca says. "But as the season's gone on, I think she [had] a really strong top three... any of the guys that she would choose, I feel like it could work."
JoJo, one of the three past Bachelorettes who became engaged to the recipient of her first impression rose, approves of both of the final men, Blake Horstmann and Garrett Yrigoyen, but she's in favor of the first impression pattern continuing. "I adore Blake," she says. "Jordan and I actually thought he was one of our faves from the beginning, but then watching her relationship also evolve with Garrett, she gave him the first impression rose... it seems like she's crazy about both of them. But coming from a girl who did choose her first impression rose [winner]... I have a feeling she's going to go with Garrett."
With only two episodes of The Bachelorette, I'll need to grab my wine and crackers, cue up my friends on FaceTime, and remember that whatever is meant to be will be. What better way to toast to Becca's happily ever after than with your own girl squad at your side?
Season 14 of The Bachelorette concludes on Monday, Aug. 6, at 8 p.m. ET on ABC.