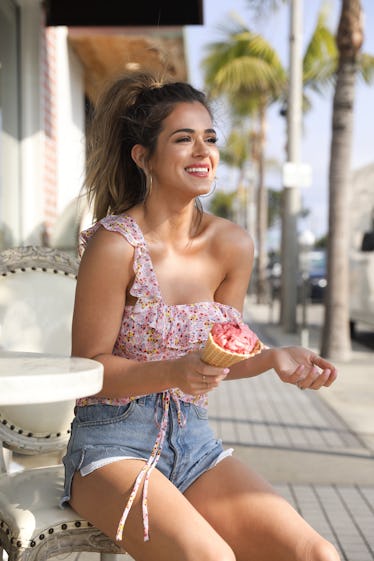 'Bachelorette' Jojo Fletcher Has Her Own Clothing Line & It's A Winner
Courtesy of Fletch
Jojo Fletcher is only 27 years old but has already been on two TV shows and has millions of social media followers. She's now adding something else to her resumé: Fashion designer. Jojo Fletcher's clothing line Fletch is finally here and it's everything you need for a fab summer wardrobe.
Fletcher first became known to the world during season 20 of The Bachelor when she was sadly (at the time) Ben Higgins' runner up. The Dallas, Texas native got her turn to be in charge, however, when she was the star of season 12 of The Bachelorette. Fletcher accepted a proposal from Jordan Rogers and the two are defying the reality TV odds and remain together! So what's a happily engaged TV star to do now? Design a fabulous (and affordable) clothing line, duh!
The brand is called Fletch (I'm going to start trying to make Fletch happen) and launched online on Jun. 13. The line has an exciting variety of products, from t-shirts and jean shorts to statement-making jumpsuits, and sizes range from XS to XXL. Prices start at $34 and max out at $148 so there's a good chance you'll end up with more than one item in your cart – wink, wink.
Fletcher spoke to Life & Style about how she finally launched her namesake clothing line, something she's been dreaming about since high school,
I put my head down and I was like, 'I'm gonna do this.' And I think for the longest time, the one thing stopping me was just being so nervous or scared that I couldn't do it, but I wasn't gonna let that fear stop me from pursuing something I'm passionate about, so I just did it! The only thing you can do is go for it and see what happens.
If that doesn't inspire you, I don't know what will.
This stimulus of self-empowerment is infused into Fletcher's vision for her customers, as well. The reality star said in a press release,
I created Fletch to help every girl feel even more bad*ss and beautiful than they already are.
The debut collection has just 20 pieces but Fletcher confirmed to Life & Style that she's already working on next season's designs. Yay!
The Desert Mini Dress ($109; shopfletch.com) is Fletcher's favorite piece so far. "It's a crowd pleaser, it fits amazing, the quality is great, it forms to your body no matter what size you are," the newly minted fashion designer told Life & Style.
While the line has a selection of more casual options, there are also a couple fierce looking jumpsuits that speak to Fletcher's passion for design. She tells Life & Style,
Everything I love about fashion, I put into Fletch. I'm so passionate about it, and I hope it's a line that people love and that every piece they put on makes them feel even more beautiful and strong and powerful than they already are.
I've already looked through the entire site and these two pieces are my absolute favorites. The Dallas Denim Shorts ($74; shopfletch.com) are the ideal high-rise cut-offs I've been searching for, and I can't get over the beautiful, burnt orange color of the Sienna Cami Bodysuit ($54; shopfletch.com).
The most apparent part of the line as whole is Fletcher's dedication to it,
Every piece has my heart and soul woven into it and I can't wait to see girls rocking them!
Celebrity clothing lines are a dime a dozen but it's refreshing to see one whose founder is so intricately involved in the entire process.
Check out the brand's website to shop Fletch online today!