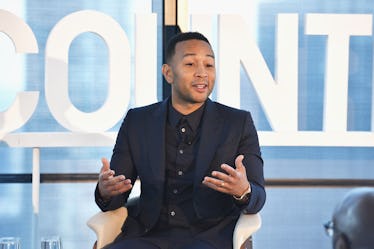 John Legend Thinks We Have Better Things To Be Worrying About Than Sarah Sanders
Bryan Bedder/Getty Images Entertainment/Getty Images
The debate about "civility" continues to be a trending topic in politics, and now one of Hollywood's political critics has had his say. On Wednesday night, June 27, John Legend and Chrissy Teigen weighed in on the debate, which has been sparked in part by reports of White House officials being hounded out of restaurants. John Legends' response to Sarah Sanders being denied service at a Virginia establishment, in particular, was unapologetically blunt.
When asked by a TMZ reporter whether attacks on politicians are justified, the singer-songwriter didn't hesitate to answer: "Ask me, 'Should we be reuniting 2,000 kids with their families?'"
When the reporter obliged, Legend added, "Yes, we should. I don't care about f*cking Sarah Sanders. Reunite the f*cking kids with their families, then we'll talk about Sarah Sanders and her f*cking dinners."
With "dinners," it was clear what John Legend was alluding to.
The previous Friday, June 22, Sanders visited the Red Hen restaurant in northern Virginia. That same night, a purported server wrote a (now deleted) Facebook post that said Sanders' stay at the restaurant was cut short. "I just served Sarah Huckabee Sanders for a total of 2 minutes before my owner kicked her out along with 7 of her other family members," the post read.
The next day, Sanders confirmed the rumor via Twitter.
"Last night I was told by the owner of Red Hen in Lexington, VA to leave because I work for @POTUS and I politely left," tweeted Sanders, the White House's chief spokesperson. "Her actions say far more about her than about me. I always do my best to treat people, including those I disagree with, respectfully and will continue to do so."
That same Saturday, California Rep. Maxine Waters encouraged protests against Trump administration officials in public, particularly to argue agains family seperation.
"Let's make sure we show up wherever we have to show up. And if you see anybody from that Cabinet in a restaurant, in a department store, at a gasoline station, you get out and you create a crowd," Rep. Waters said at a public event in Los Angeles on Saturday. "And you push back on them. And you tell them they're not welcome anymore, anywhere. We've got to get the children connected to their parents."
She later added, "Mr. President, we will see you every day, every hour of the day, everywhere that we are to let you know you cannot get away with this."
Since then, the debate about maintaining civility in politics has raged on.
There's a general argument from those who've criticized Rep. Waters and the idea of protesting Trump administration officials while they eat: It will result in an endless tit-for-tat that's good for no one.
Conservative columnist Tom Nichols made that case in The Washington Post. "If Democrats now try to stoop to that level, rhetorically tar-and-feathering Trump's staff wherever they pop up in Washington, it will backfire for one simple reason: No one is as committed to incivility as Trump, and no one enjoys these antics more than his base," Nichols wrote.
The opposing argument is just as straightforward: President Donald Trump has enacted policies so terrible — most specifically the seperation of migrant families at the border — that preserving civility in politics is far down the pecking order of priorities for his strongest opponents' worries.
The owner of the Red Hen restaurant seems to have subscribed to the latter argument.
"I'm not a huge fan of confrontation," the owner, Stephanie Wilkinson, told The Washington Post. "I have a business, and I want the business to thrive. This feels like the moment in our democracy when people have to make uncomfortable actions and decisions to uphold their morals."
John Legend clearly, and unsurprisingly, agrees.