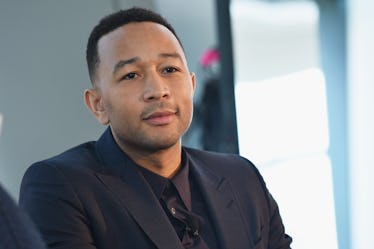 John Legend Is Calling Out White Supremacy In A Serious Way
Bryan Bedder/Getty Images Entertainment/Getty Images
John Legend's career has been filled with many unforgettable moments, but this latest news might just be the best thing yet. The "All of Me" singer has penned an opinion piece for The Washington Post calling out the criminal justice system in Louisiana. If you don't read anything else today, at least check out John Legend's op-ed calling out white supremacy in Louisiana.
On Monday, Aug. 13, the Grammy-winning singer called on Louisiana to "strip white supremacy from its constitution" by voting for an amendment that would implement unanimous jury verdicts for convictions in all felony trials.
"Louisiana is one of only two states — the other is Oregon — in which a person can be convicted of a felony and sent to prison without a unanimous vote of the jury," he explained. "As a result, Louisiana prosecutors do not truly have the burden of proving their case 'beyond a reasonable doubt.' They only need to persuade 10 of 12 jurors to send a defendant to prison, even for life." In most of the rest of the country, a unanimous vote is required to convict a defendant on criminal charges.
Legend went on to say that the state's current system — a 120-year-old measure — works to "suppress the rights of African-Americans." He explained that the 10-2 rule was established "during Louisiana's all-white constitutional convention in 1898" to "perpetuate the supremacy of the Anglo-Saxon race in Louisiana."
But in the November midterm elections, voters will have the option to change that. Louisiana Amendment 2 will give residents of the state the option to require unanimous verdicts in criminal cases, and Legend is urging voters to support it.
"Ending the 10-2 jury rule in Louisiana will not solve the issue of mass incarceration or dismantle white supremacy, but it will deal a significant blow to both," Legend wrote.
According to Prison Policy Initiative, a non-profit which examines the effect of mass incarceration, as of 2016 there are 54,000 people incarcerated in Louisiana, and until June 2018, the state had the highest incarceration rate in the country. What's more, the state's incarceration rates have expanded exponentially over the past 40 years, according to Prison Policy Initiative — especially when it comes to black Americans. A 2017 fact sheet from the Louisiana Department of Public Safety and Corrections showed that the state's prison population was nearly 67 percent black, compared to only 32.9 percent white. When you take into consideration the fact that blacks only represented 12 percent of the entire U.S. population in 2016, while 64 percent of the national population was white, the discrepancy is troubling.
Many Twitter users praised Legend for drawing attention to the issue.
Even the New Orleans Public Defenders praised Legend's post.
Legend has seemingly grown increasingly political over the past few months, impressing many onlookers along the way. Prior to his op-ed, he'd also slammed House Speaker Paul Ryan after the GOP representative tweeted a Father's Day message on June 17 in dedication to "all the dads out there." Ryan's tweet came in the middle of President Donald Trump's now-abandoned and highly-criticized "zero tolerance" policy, which permitted the separation of migrant children from their parents after crossing in to the U.S. illegally. Legend shot back, "Seriously, f*ck you. Reunite the families at the border and we can talk about father's day."
Before that, he and his wife, Chrissy Teigen, had also announced they were each donating $72,000 to the American Civil Liberties Union (ACLU), which helps migrant families fight against the effects of the policy, to "celebrate" Trump's 72nd birthday on June 14.
There's a lot going on out in the world, and Legend is making it increasingly clear that he'll do whatever he can to effect positive change. And maybe you can too, when the midterms roll around in November. Be there, or be square.