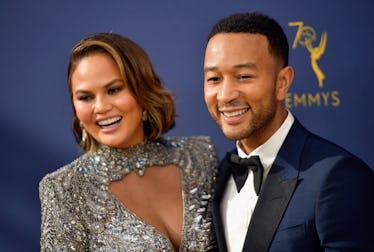 John Legend Revealed His Favorite Recipe In Chrissy Teigen's New Cookbook — EXCLUSIVE
Matt Winkelmeyer/Getty Images Entertainment/Getty Images
Chrissy Teigen and John Legend are one of those rare celebrity couples who, despite their combined star power, seem like some of the realest people you'll ever meet. Their infatuation with one another is undeniable, yet Teigen's not afraid to troll Legend (hilariously, I might add) about his striking resemblance to the cartoon character Arthur, just like he's not afraid to call his wife out when she won't get off her phone when they're watching a movie together. And when I asked John Legend about his favorite recipe in Cravings: Hungry for More, aka his wife's newest cookbook, his eyes — and really, his entire demeanor — absolutely lit up as he told me his answer.
In case you haven't heard, Chrissy Teigen released her cookbook Cravings 2 on Sept. 18, and to say the least, her fans have (literally) been eating it up. According to Amazon's description of what it calls Teigen's "edible diary," the cookbook "takes us further into Chrissy's kitchen . . . and life. It's a life of pancakes that remind you of blueberry pie, eating onion dip with your glam squad, banana bread that breaks the internet, and a little something called Pad Thai Carbonara."
Is your mouth watering yet? In an exclusive interview with Elite Daily, the 39-year-old performer tells me that while he enjoys just about anything Teigen prepares, it's her French onion soup that he can't get enough of.
"It makes me very happy," he tells me with a warm smile. "It's classic, but she has a nice spin on it: a buttery croissant on top instead of the normal bread people put on top."
I haven't tried this recipe myself just yet, but I'd have to imagine that the buttery croissant is a total game-changer. Teigen wrote in her cookbook that, much like her husband, she, too, is "absolutely obsessed with French onion soup," and while her favorite take on the dish comes from Balthazar in Soho, New York City, she insisted, "mine is better." I'll take your (and your husband's) word for it, Chrissy. I mean, how could I not? In the recipe for her French onion soup, Teigen described in mouthwatering detail "the toasty, flaky, buttery croissant croutons" that Legend raved to me about. She wrote,
My only peeve with French onion soup is that I can't spoon-cut the baguette and must plow the entire piece into my mouth — which is fine, but then I'm out of bread for the rest of my soup. NOT OK. Now each bite is one part soup, one part oozy cheese, and one party crispy, melt-in-your-mouth croissant goodness. Every. Single. Bite.
Anyone else ever feel like Chrissy Teigen is really just your internal monologue's voice inside your head? No? Just me? K.
Luckily, you don't have to sit there and daydream about Teigen's to-die-for French onion soup — the recipe actually sounds pretty easy to make. Per Teigen's cookbook, the soup itself calls for pretty standard ingredients for the dish: butter (and lots of it), olive oil, onions, beef broth, a dry red wine, thyme, garlic, and flour — though Teigen adds a bit of soy sauce to her recipe to give it an interesting kick. Yum.
When I ask Legend to describe the flavors of his wife's bomb French onion soup, he gives me three simple, decadent words: "gooey, juicy, delicious." BRB, cancelling all my weekend plans and buying this cookbook so I can try it myself.