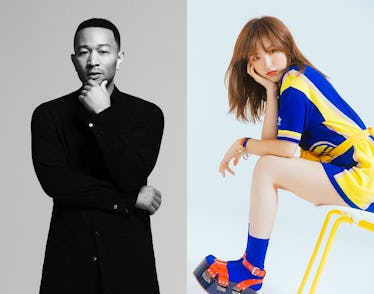 John Legend & Wendy From Red Velvet's New Collaboration Will Make You Believe In Soulmates
Courtesy of SM Entertainment
This year has been an amazing one for K-pop fans. It seems like every other day an incredible new collab between one of your K-pop faves and a "mainstream" R&B, hip-hop or pop megastar drops. I use the word mainstream loosely because, obviously, your K-pop faves are slowly but surely solidifying themselves as mainstream superstars in their own right with their growing global popularity (BTS? NCT 127, anybody? The list just keeps growing). Today, I'm here to talk about the single Wendy from K-pop girl group Red Velvet just dropped with R&B heavyweight John Legend. I'll tell you here and now, John Legend and Wendy's "Written In The Stars" lyrics and music video will make you believe in soulmates if you didn't already!
It's not every day a member of one of K-pop's most prominent girl groups teams up with an EGOT-winning icon, so you definitely want to give this track the attention it deserves. The song is a guitar-heavy, R&B love ballad that's all about star-crossed lovers who have very different lives finding a way to make their love work (because, as you know, true love always finds a way).
Wendy and Legend even teamed up to film a romantic AF music video for the song in some remote Southern California dessert that looks so damn romantic, I can't deal!
And Wendy couldn't deal either. She opened up about what it was like working with John Legend on the song in a press release shared with Elite Daily. "I have been such a fan of John's work for a long time, so to collaborate with him on this project was a dream," said Wendy. Adding, "Everything John does, he approaches with excellence."
Wendy even revealed that she was a ball of nerves filming the video with Legend (and who wouldn't be, honestly?). "I remember being so nervous throughout the whole shoot," she shared in an interview Billboard. "Like, I was frozen and couldn't speak — it was just a dream come true." Same, Wendy. Same.
Check out the music video below because it will surely make you swoon.
Those harmonies, though? Those visuals? Are you swooning yet? Because I'm definitely swooning.
And just wait until you read the lyrics, because I can't blame you if you were too distracted by Wendy and John Legend's chemistry to give them your full attention.
Wendy starts out with her verse and her sweet vocals are almost too much to handle:
Seems like we've been here before / Your eyes are seeing straight right through my core / It's kinda strange, but I like it / Ain't no reason tryna' fight it, yeah / Might be Déjà vu / First time we met, but I remembered you / We were creepin' in the night time / Maybe in another lifetime
But then John Legend joins in for the pre-chorus and OMG:
Don't tell me you don't feel what I feel right now / Ooooh, it's written all over you / Don't tell me you don't feel what I feel somehow / Oooh, I keep findin' my way back to you
Then the pair drives the message of this love song home in the chorus!
You can go anywhere babe wherever you want / Because I know we're written in the stars / You can go any which way don't matter how far / Because I know we're written in the stars
Leave it to Legend to come through with his trademark sultry vocals in his verse:
The moment… you looked at me / I started losing feeling in my cheeks / Felt myself moving towards ya / I just wanted to get closer, oh! / When you say hello / I know there is no limit where we'll go / I want you to be ready / I'll hold your heart if you'll let me, oh!
After singing the chorus again, the pair delivers this sweet line to each other that pretty much solidifies the track as your future wedding song:
And I promise every day (I promise every day) / To make you feel this way (To make you feel this way) / So that you know it's written in the stars
Raise your hand if you're going to have this song on repeat for the rest of ever. *raises hand*