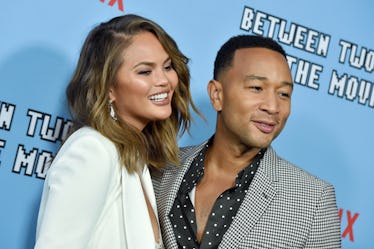 John & Chrissy's 'Vanity Fair' Cover With Luna & Miles Will Make You So Happy
Axelle/Bauer-Griffin/FilmMagic/Getty Images
Luna and Miles Stephens may be mere toddlers, but the pair have already landed the cover of Vanity Fair. You heard me. The adorable tots are featured in the December 2019 issue of the magazine alongside their famous parents, and lemme tell ya: John Legend and Chrissy Teigen's Vanity Fair cover with Luna and Miles is real-life family perfection.
In the gorgeous and yet somehow totally accessible image shot by Marc Seliger, Legend is seen kissing his wife's cheek. But it's their little ones who steal the scene. Luna shows off her best mischievous smile and a big Rockette kick, while Miles — clad only in a diaper — stares at the camera with a look on his face that challenges anyone to stop him from breaking free of his dad's arms.
It's just all so relatable. And the gifts keep on coming, because in two additional posts over on Instagram, Vanity Fair shared actual video footage from the shoot.
In the first clip, Legend spins Luna around in the backyard before the foursome busts out into a full-on Christmas music dance party. And in the second, Teigen kisses Miles' feet while Luna rides around in a princess dress on a stuffed tiger.
"The first family we deserve," Vanity Fair captioned the cover story.
Here's the beautiful family photograph:
And here are Vanity Fair's two additional posts on IG. Be sure to click through to see the videos.
Inside the issue, even more of the Legend's family life is laid bare, documenting how Legend promised Luna they'd go swimming in the backyard pool when she woke up from her nap, how Luna was waffling between being a good fairy and good fairy Darla from The Little Rascals for Halloween, and the Stephens/Teigen household is not above getting help from a nanny. "I hate pretending that we do it on our own," Teigen told Vanity Fair. "We have daytime help, nighttime, weekend. I don't know how my mom did it."
Teigen's honesty is so refreshing, and totally on-brand for a star who is both fearless and hilarious when it comes to speaking her mind.
Just ask Legend, who opened up in the article about the couple's early days of dating.
"She just entertained the hell out of me, texting me," he revealed. "What people respond to in her tweets today was the same energy in those texts. I didn't know that I wanted someone funny until I was actually with someone funny."
On Oct. 27, just a day before their Vanity Fair feature dropped, Teigen opened up on Twitter about how dedicated Legend is to making time for her and how thankful she is for that quality.
"I do not normally brag about john, as it is my schtick to make fun of him always, but he flew from London to LA instead of London to DC to have dinner with me and watch love island UK because I haven't been feeling like myself lately," she tweeted. "Just a few hours but it meant a lot. Thank u."
"I love you my baby. See you tonight," Legend responded.
In case it wasn't clear from their Vanity Fait interview or their lovey-dovey tweets to each other, Legend and Teigen are more in love than ever, and I love to see it.