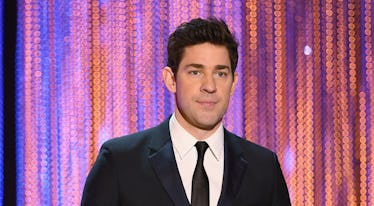 John Krasinski Will Play Spider-Man In A New Marvel Movie & We Can't Handle It
Kevin Winter/Getty Images
John Krasinski is out of the office and into a pretty exciting superhero role. Apparently, Marvel is bringing the comedy star in to play Peter Parker in the new Spider-Man movie that its working on. FandomWire is reporting that John Krasinski will play Spider-Man in Marvel's upcoming animated feature Spider-Man: Into the Spider-Verse. Now, I know what you're thinking: Isn't Tom Holland Marvel's onscreen Spider-Man right now? In the big Marvel Cinematic Universe movies, yes, but Krasinski will play an adult version of the webslinger in a separate, animated Spider-Man flick called Spider-Man: Into the Spider-Verse, which is slated to hit theaters later this year.
Although John Krasinski is playing Spider-Man in this new movie, he actually won't be the only Spider-Man in it. Spider-Man: Into the Spider-Verse will introduce the Marvel character of Miles Morales onto the big screen. Morales was introduced into the Marvel comics series in 2011, as another teenager who develops superpowers after being bit by a radioactive spider, and he goes on to become a second Spider-Man following Peter Parker's death. But in this new movie, Peter Parker will still be alive, and an adult Parker will serve as Morales' mentor to help him better understand his new powers. Shameik Moore, who most recently starred in Netflix's The Get Down, is voicing the lead role of Miles Morales. Check out the official trailer for Spider-Man: Into the Spider-Verse below:
As you can tell from the trailer, Spider-Man: Into the Spider-Verse will be a much different take on the webslinger's story than last summer's live-action Spider-Man: Homecoming, which starred Tom Holland as a teenage Peter Parker learning how to hone his powers. Into the Spider-Verse looks to be a darker take on the origin story, and set in a time when Peter Parker is grown up and passing his knowledge along to his successor, Miles Morales.
John Krasinski is joining an already impressive cast on Spider-Man: Into the Spider-Verse. Mahershala Ali is voicing Miles Morales' uncle Aaron Davis, and Atlanta star Brian Tyree Henry is playing Morales' father Jefferson Davis. Liev Shreiber is also on board to voice the movie's villain, who has not been revealed yet, and Tom Hardy is voicing the antihero Venom in the flick. This will actually be a reprised role for Hardy, since Spider-Man: Into the Spider-Verse is coming out on Dec. 21, 2018, which is a little over two months after he will have starred in the live-action Venom movie on Oct. 5. Spider-Man: Into the Spider-Verse is being written and produced by Phil Lord and Christopher Miller, the duo behind The Lego Movie franchise.
The casting choice falls in line with John Krasinski's recent move away from comedy and into action. Though best known for his deadpan leading man role as Jim Halpert on The Office for 9 seasons from 2005 to 2013, Krasinski has begun taking more big-budget action roles, such as helming Amazon's upcoming Jack Ryan series and last year's military biopic 13 Hours: The Secret Soldiers of Benghazi. Now with a superhero movie on the way as well, it seems like Krasinski is on somewhat of the same path as fellow network sitcom star-turned-action hero Chris Pratt. Krasinski will next star in the supernatural horror flick A Quiet Place, alongside his wife Emily Blunt.
Unfortunately, Spider-Man fans are going to have to wait about a year for the new animated movie to swing into theaters. Spider-Man: Into the Spider-Verse will premiere on Dec. 21, 2018. Before then, Tom Holland's Peter Parker will appear in this summer's Avengers: Infinity War, which will come out on May 4.