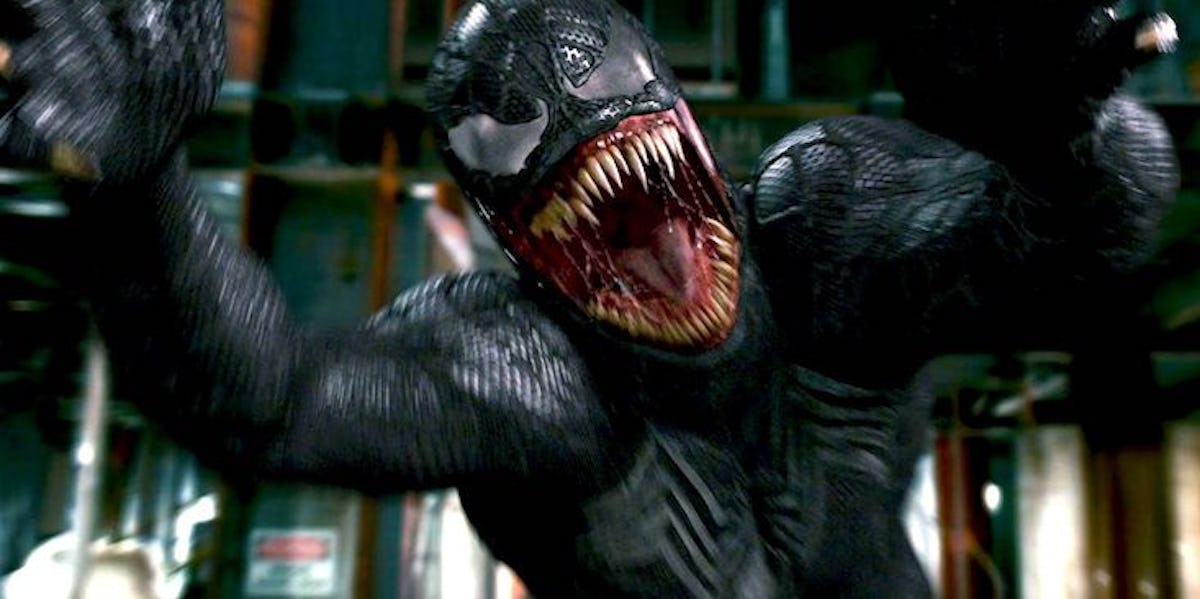 Riz Ahmed & Tom Hardy Are Making A Movie About 'Spider-Man' Supervillain Venom
Columbia Pictures
There's certainly no shortage of Spider-Man movies these days — we've already seen three big-screen iterations of the web-slinger in just the last 15 years — but there has been one very popular character left out of almost all these movies. Venom is definitely the most popular villain in the Spider-Man comic books, but so far we've only seen the alien virus pop up in the film franchise once, as the antagonist of 2007's Spider-Man 3. Now, Tom Hardy and Riz Ahmed are bringing the character back in his own Spider-Man Venom spinoff.
The upcoming Venom movie will star Tom Hardy as the title baddie, and according to Variety, Riz Ahmed is in talks to join in an undisclosed role, though it's being teased as another popular Marvel character. This will be the second time Hardy has played the big bad in a superhero movie, after terrorizing Gotham City as Bane in The Dark Knight Rises. It'll be Ahmed's first foray into the superhero universe, although he does have big-budget franchise experience after appearing in Rogue One: A Star Wars Story last year.
And if that awesome casting news isn't exciting enough, Venom also has a great director already attached to it as well: Ruben Fleischer. Basically, Fleischer calling the shots is a pretty good indication to fans that Venom will have some great humor in it along with all the heroics. Fleischer has directed sci-fi comedies like Zombieland and The Santa Clarita Diet, along with a number of comedy shorts.
But fans should not expect to see Tom Holland's Spider-Man swinging by for the upcoming spinoff. Sony is making it clear Venom won't be a part of the newly kicked-off Spider-Man universe of films, but rather it will be its own standalone movie.
Unfortunately, comic book fans will have to wait over a year to actually see Venom take to the big screen in his own movie. Venom is slated to be released on October 5, 2018.