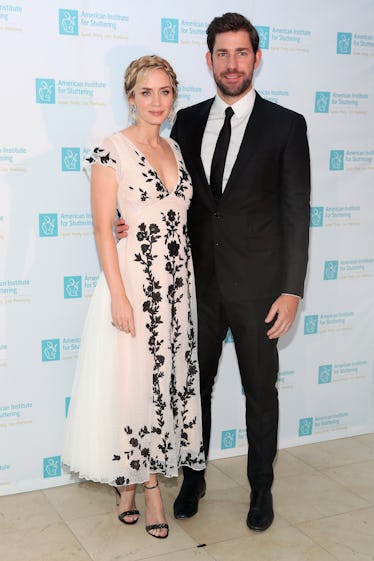 Husband Of The Year John Krasinski Flew 6,000 Miles Every Weekend To Be With Emily Blunt
Cindy Ord/Getty Images Entertainment/Getty Images
John Krasinski and Emily Blunt are literal beams of sunshine. The couple has two daughters together, Hazel and Violet, and while they keep their family life private, Blunt and Krasinski have always been ~blunt~ (hehehe) about how much their family matters to them. It should come as no surprise, given all that, that John Krasinski flew 6,000 miles every weekend to see his family while he was filming Jack Ryan and Blunt was filming Mary Poppins.
In an interview with People at the Jack Ryan premiere on Friday, Aug. 31, Krasinski revealed that he doesn't like to complain about having a heavy schedule on any project — he'll just make it work. "I think that there's nothing you can complain about in this business, you know what I mean?" he said. "We are all so lucky to be doing what we're doing." There are definitely things about Hollywood that are worth complaining about, but he was going somewhere else with this comment, so I get it. He continued, "If there's one thing that's a bummer, it's that you spend time away from your kids. But guess what, a lot of people spend time away from their kids. So for me, I think we're all living in a fantasy camp. So I'm not going to be the first one to complain."
Instead of complaining about his and Blunt's intense schedule while filming, he just made it a point to make it home to his daughters no matter what. "Family for me, it's a non-negotiable thing," he told PEOPLE. "So if I'm honest, I was shooting 6,000 miles away from them, and I flew back every single weekend." 6,000 miles! Once a week! How much money does that cost?! A lot. The answer is a lot. But hey, he's Jim Halpert and Blunt is Mary Poppins, so I guess they can afford all of those flights.
John Krasinski: actor, director, American Airlines' most loyal customer, and husband and father of the friggin' year.
Krasinski's Jack Ryan co-star Dina Shihabi confirmed the Office alum's frequent flier status in a previous interview with PEOPLE. "He flew basically every weekend to London, where Emily was shooting Mary Poppins, to be with his kids. He would wrap at like 5 a.m. on a Saturday morning, get on the next flight to London, and then come back Sunday night," she said.
Krasinski also revealed a bit about how he and Blunt keep an established sense of home and family for Violet and Hazel throughout their frequent travel and work requirements when speaking to PEOPLE. "Emily was shooting a little indie movie called Mary Poppins," he joked, "So they were with her, and we always set up a base, and I always want the base to be with their mom, and I'll do the flight time." He did admit that the constant flying was "brutal," but completely worth it.
Krasinski and Blunt's dedication to balancing work and family has the possibility of becoming much easier, as the couple could work together again on the sequel for A Quiet Place.
A Quiet Place marked Krasinski and Blunt's first time acting in a movie together (Krasinski also directed and co-wrote the project). The end of the first movie ***SPOILER ALERT*** showed Krasinski's character dying to save his and Blunt's fictional children, so he most likely won't act in the sequel. But if Blunt appears in the sequel (it's possible that the story will be centered around all new characters) and he remains on the production side of things, the couple could possibly join forces again. Just as long as they have their weekends free to be with Hazel and Violet.