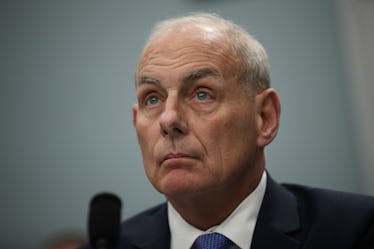 John Kelly Will Reportedly Resign As Chief Of Staff By The End Of 2018, Per President Trump
Alex Wong/Getty Images News/Getty Images
Whew. The Trump administration is losing its staffers left and right, from communications directors to attorney generals. John Kelly will reportedly resign as chief of staff in a matter of days, too, per The New York Times, adding to the long list of officials who have made their departure from the White House. Elite Daily reached out to the White House for further comment on the matter, but did not hear back by the time of publication.
It has long been rumored that Kelly would depart from his post, given his tumultuous relationship with President Donald Trump, but he held on to it — until now, that is. On Dec. 8, Trump announced to reporters that Kelly would be leaving his post by the end of the year, The New York Times reported. CNBC also confirmed the news, adding that the President called Kelly a "great guy" and thanked him for his service.
Is it surprising news? Probably not. Sources close to the White House previously told CNN on Dec. 7 that the relationship between Trump and Kelly had reached new lows and is no longer sustainable. Apparently, the two weren't even on speaking terms and hadn't been for several days, according to the outlet, which lead to speculation that Kelly would likely throw in the towel for good.
It appeared that Trump wasn't waiting around, though. CNN also reported that he was already in talks about a replacement plan. While the outlet noted that it was unclear who he would nominate for the post in the event that Kelly resigned, Vice President Mike Pence's chief of staff, Nick Ayers, is seen as a top contender. Sources told the outlet that Trump has grown to know and like Ayers during their encounters over the past few months. Elite Daily reached out to the White House regarding Kelly's replacement, but did not hear back at the time of publication.
As for what exactly motivated Kelly's reported decision to leave his role? Who knows. Things seemed to be fine back in July, when it was reported that Trump asked Kelly to stay on through 2020 (to which he obliged). That same month, the pair celebrated Kelly's one-year anniversary as chief of staff, with Trump even sharing a sweet photo of him and Kelly on Twitter.
Then again, things haven't been so pretty either, so maybe the drama has built up to this point. Back in April, Kelly reportedly grew so frustrated with the president and his lack of policy knowledge that he allegedly called Trump an "idiot." He later issued a statement denying the reports, insisting that he and Trump had a "incredibly candid and strong relationship," per The Hill. But, frankly, that's only the tip of the iceberg.
In 2017, Trump reportedly started to circumvent many of Kelly's policies and protocols, putting him on the verge of being fired or resigning on various occasions.
Kelly was also involved in some serious controversies that year, like his reaction (or lack thereof) to Trump's comments about the Charlottesville protests, in which Trump discussed the violence on "both sides." There was also the bizarre time in October 2017 when Kelly blamed the Civil War on a "lack of compromise" that took some time to blow over. So... yeah.
The options of where Kelly goes from here are probably endless, but when it comes to serving as chief of staff again, well, it's probably safe to assume that that's officially dunzo. Stay tuned for who might take up his post.