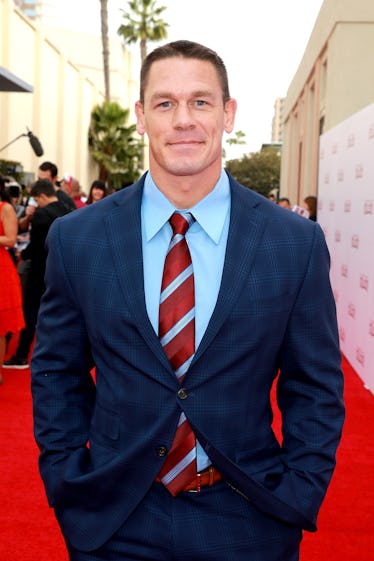 John Cena's Net Worth Will Make You Want To Jump In A Wrestling Ring ASAP
Rich Fury/Getty Images Entertainment/Getty Images
The name John Cena is, undoubtedly, synonymous with WWE. So, what kind of fortune does a name like that carry on its shoulders? A lot. In fact, John Cena's net worth is so far above expectation that you'll probably want to take a stab at wrestling yourself.
According to Celebrity Net Worth, Cena is worth an estimated $55 million, which is truly unfathomable. But, at the same time, it makes total sense that someone like Cena would be worth that much. He's a multi-talented guy who has dabbled in music, acting, and does tons of charity work. His face is everywhere and he probably moves a very good amount of merchandise. Speaking of merchandise, John Cena merch is available just about everywhere you can think to shop (think Walmart, Target, Amazon, and so many other places!), so it has definitely had an impact on his net worth.
But let's take a step back for a second and understand how Cena came into his fortune.
Cena has enjoyed a long and illustrious career as a pro wrestler since 2000, when he made his debut for the World Wrestling Federation (now known as World Wrestling Entertainment, or WWE). From there, his popularity skyrocketed and his wrestling career just took off.
Soon after, he inked a contract with the WWF in 2001. At the time, he was known to audiences as The Prototype. He dropped the stage name by 2003 and quickly became a fan favorite. Once The Prototype was out of the picture, Cena's star power really began to rise and he started raking in the cash. Over the course of his career, he's won — count 'em — 10 World Titles and three WWE U.S. Championships.
Forbes estimated that Cena makes something close to $8 million per year... and that's during a slow period.
So, what else contributes to his wealth besides pro wrestling? Music, for one. In 2005, Cena released a rap album titled You Can't See Me, which debuted at number 15 on the Billboard 200 charts.
There's also Cena's TV and film appearances to consider. In 2006, WWE Studios produced Cena's first film, The Marine, which grossed $18.8 million. In 2010, he starred in Legendary with acclaimed actress Patricia Clarkson. More recently, Cena's been dabbling in more comedy, acting opposite Amy Schumer in 2015's Trainwreck and tackling fatherhood in 2018's Blockers. Trainwreck grossed a total of $110 million, while Blockers is currently on its way to grossing nearly $40 million.
And if that's not enough, there's also Cena's endorsements to consider. Throughout his career, he's been associated with brands like Subway, Gillette, and Wonderful Pistachios. So, you can bet that Cena's getting boatloads of cash from these deals, too.
Check out this Subway commercial from 2008:
If there was ever a guy that was truly worth every bit of his fortune, it's John Cena. He works his tail off to make sure wrestling fans everywhere know his name. And they do!
But, as with all things, relentless career goals can come at a hefty price. Cena recently broke off his relationship with fellow pro wrestler Nikki Bella. The two were to be married in May 2018, but they officially announced their split on April 15, 2018. Some reports have suggested that Cena's tireless work ethic and dedication to his career may have played a role in the break-up. Elite Daily reached out to both Cena's and Bella's reps for comment on those reports, but did not hear back by the time of publication.
Whatever happens for Cena in his personal life, it's clear that he's found a fulfilling professional one. And he sure is making a lot of dough pursuing every last one of his goals.