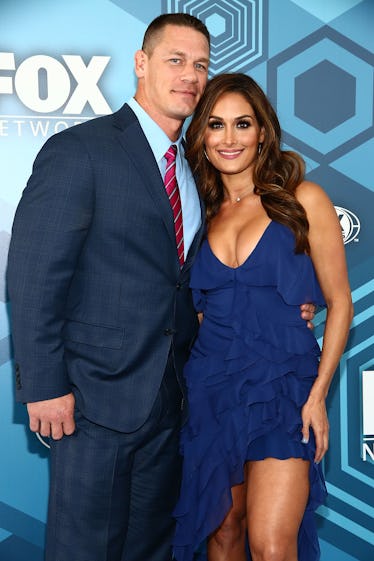 John Cena Left Nikki Bella The Most Heartbreaking Gift After Their Breakup
Astrid Stawiarz/Getty Images Entertainment/Getty Images
Is it possible professional wrestlers John Cena and Nikki Bella are the Ross and Rachel of our generation? The professional athletes have been in the largest game of "Will They? Won't They?" since calling off their wedding originally scheduled for May 2018. Fans have watched their relationship play out on television for the past six years, and a recent clip of Cena leaving a surprise gift for Bella shows nothing's over until the ref calls it. John Cena's gift for Nikki Bella after their breakup is so sweet, it has fans everywhere calling their bluff.
While their relationship is currently "off" as far as we know, the series Total Bellas is still totally on. In a recent teaser for an upcoming episode, fans watch Bella head to her home she once shared with Cena in Tampa, Florida in order to train for her performance in the upcoming Royal Rumble event. In the video, Nikki walks her twin sister, Brie, through the home showing off all of her and Cena's decorations. Upon entering one room, Nikki finds a note and a bunch of flowers left for her by Cena. Nikki quietly reads the clearly lengthy note to herself, but luckily editors put some of the text on the screen for fans to peep, too. In his note, Cena says: "For me to watch you grow into something so beautiful and amazing … for making me feel a part of all these moments."
Brie asks Nikki if it's a "sweet note," to which she responds, "the best."
Later, in her one-on-one interview, Nikki tells cameras:
It's really hard to be in this house without John and his presence is so strong here. So it's kinda hard to focus on Rumble but that's why I'm here. I'm here to train really hard and to have such an amazing performance.
You can catch a glimpse of her discovering the note and smelling the roses in the clip below.
And you can watch the entire heart-wrenching moment by clicking here.
The truth is, Cena has been super vocal about wanting to get back together with Bella. One of their main points of contention has been the decision of whether or not to have children, which he just totally flip-flopped on in an interview with TMZ. After years of insisting he does not want kids, Cena told cameras he would actually "love to be a dad." He told TMZ,
I would love to be a Dad. And by the way, that's an about-face for me and I realize very much that I have been steadfast in saying that I don't want children. But I'm a little bit older, a little bit wiser. At age 18, we say things different than at 25, 35. I would love it, only because I dedicated my life to my work and now I'm realizing that there is life, and life exists, and it is beautiful. And I think part of that is being a parent.
Well, well, well. Better late than never, I guess. Does this change everything?
The truth is, these two have been known to flip their relationship status on a dime, so I wouldn't put it past them to get back together thanks to Cena's new revelation. After all, their decision to call off the wedding came immediately after Bella's nine-day bachelorette extravaganza in France. Their nuptials were scheduled to be televised in May, and their official breakup statement arrived as late as April 15.
The couple released the following statement to US Weekly:
While this decision was a difficult one, we continue to have a great deal of love and respect for one another. We ask that you respect our privacy during this time in our lives.
No problem, guys. Take all of the privacy you need (while reality TV cameras and paparazzi hover around you like bees). Fingers crossed for you kids.
Check out the entire Gen Why series and other videos on Facebook and the Bustle app across Apple TV, Roku, and Amazon Fire TV.