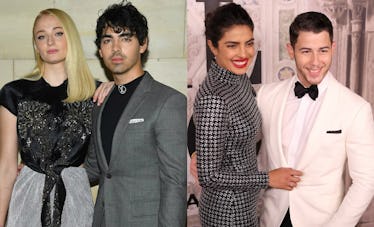 Joe Jonas & Sophie Turner Clapped Back So Hard At Haters Criticizing Priyanka Chopra & Nick's Marriage
Pascal Le Segretain/Getty Images Entertainment/Getty Images | Rob Kim/Getty Images Entertainment/Getty Images
When it comes to Sophie Turner and Nick Jonas, family always comes first. And the famous couple is proving that with their reaction to an article from New York Magazine's The Cut that heavily criticized Priyanka Chopra and Nick Jonas' marriage. Joe Jonas and Sophie Turner's comments defending Nick and Priyanka show just how fierce and protective they are, especially when it comes to family.
In The Cut's article, which was called "Is Priyanka Chopra and Nick Jonas's Love for Real?" and has now been removed from the site, the author accused Chopra of being a "global scam artist." The author also claimed that Nick had entered into a fraudulent relationship and needed to get out ASAP.
"At times, marriage can be a beautifully wonderful union that warms even the coldest of hearts, but sadly, this union evokes no such feeling," the post read, according to screenshots published by India Today. "All Nick wanted was a possible fling with Hollywood's latest It Woman, but instead he wound up staring straight at a life sentence with a global scam artist… Nick, if you're reading this, find that horse and gallop away as fast you can!"
Yikes. Those are some seriously misguided and ill-informed assertions. And Joe and Sophie made that clear with their reactions to the article.
In a Dec. 5 tweet, Joe took aim at The Cut, calling the article "disgusting."
"This is disgusting. @TheCut should be ashamed to have someone write such evil words," he tweeted. "What Nick & Pri have is Beautiful Love. Thank u, Next."
I don't know about you, but I've never seen a better use of "Thank U, Next" than right here in this tweet.
Joe's fiancée, Sophie Turner, also decided to tweet about how "inappropriate" she thought the article was.
"This is wildly inappropriate and totally disgusting. Very disappointed that The Cut would give anyone a platform to spew such bulls**t," she wrote.
The two stars were clearly upset by the fact that The Cut would ever publish such an article, especially since Nick and Priyanka literally just got married days prior. The famed couple tied the knot in the early days of December in an extravagant multi-day celebration at the Taj Umaid Bhawan Palace in Jodhpur, India. Obviously, it's a very happy time for Nick, Chopra, and their families, so for such a negative and outlandish article to be published by a major publication has to sting a little bit.
It seems that The Cut, which was subjected to some serious criticism from readers via social media, recognized their lapse in judgment in publishing the article and, in turn, decided to take it down. In an editor's note on the article's original page, the publication apologized for having published the story at all.
"Upon further editorial review, we found this story did not meet our standards," the editor's note reads. "We've removed it and apologize."
At least the article is gone for good and The Cut has realized their mistake. Hopefully, Nick and Priyanka won't have to deal with any more hot takes like that again.