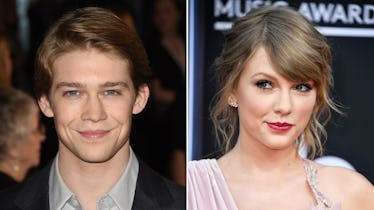 Joe Alwyn Posted A Sneaky Taylor Swift Shoutout On His Now-Public Instagram
Stuart C. Wilson & Frazer Harrison/Getty Images Entertainment/Getty Images
Sometimes with celebrity couples, fans have to do a little extra sleuthing to get the details about their relationship. In the case of Joe Alwyn and Taylor Swift, a lot of extra sleuthing. The two have been reportedly dating for some time, but factual evidence about their romantic life is hard to come by. However, Joe Alwyn just did something major: He made his Instagram PUBLIC. This means fans now have access to all of his pics to sift through for relationship insider clues, and they just landed on some Insta-gold. Joe Alwyn's Instagram shoutout to Taylor Swift might not be very obvious, but it's good enough for me. Elite Daily reached out to both Alwyn and Swift's teams previously for comment on their relationship, but did not hear back by the time of publication.
Here's what's up: On May 7, Swift was gearing up to kick off her Reputation tour. As part of her promo, she posted a sunny photo standing next to a giant cactus with the caption, "Fact: I've never been more excited about a tour than I am about this one. And it starts TOMORROW. Also, not even remotely tour related, but today I met a cactus." Nothing out of the ordinary... yet.
Flash forward three months to Aug. 13, and Alwyn has officially made his Instagram account public. If you do a little bit of scrolling, you'll stumble upon a photo of Alwyn standing next to a very familiar cactus dated May 8. Just one day after Swift shared her desert photo.
Coincidence? I LITERALLY THINK NOT.
It doesn't take a rocket scientist to put two cacti together. These photos were definitely taken at the same time meaning Alwyn and Swift were definitely together. The following night, Swift kicked off her tour in Glendale, Arizona where fans spotted Alwyn in the crowd.
For further Instagram evidence pointing towards their thriving relationship, let me direct you to exhibit B. On Aug. 12, Alwyn shared a photo with the cast from his upcoming film, The Favourites. And yo, Swift liked that sh*t, son!
My, my, my. What a wealth of hefty, happy, healthy relationship proof we have here!
In July, Swift and Alwyn were also spotted vacationing together in Turks and Caicos where a source told People magazine the two were very "lovey-dovey." Prior to that, a different insider told US Weekly how much happier Swift is in this relationship considering it's her first truly private one. That source said, "Taylor is so much happier without her personal life in the open. She credits Joe for that and realizes how much better off she is." They also explained, "Joe has really showed her a different lifestyle and the value of privacy," adding she's "the happiest she's ever been." Elite Daily reached out to Swift's team previously about this report, but did not hear back by the time of publication.
Hopefully for Swift and Alwyn, his decision to make his Instagram public won't open up the floodgates for too many prying eyes and trolls. To be honest, I think the cactus thing is kind of an adorable, harmless observation. If haters jump out to use it against them somehow, other Swifties and I will surely have some choice words for them in the comments sections. Come at us, bro!
Check out the entire Gen Why series and other videos on Facebook and the Bustle app across Apple TV, Roku, and Amazon Fire TV.