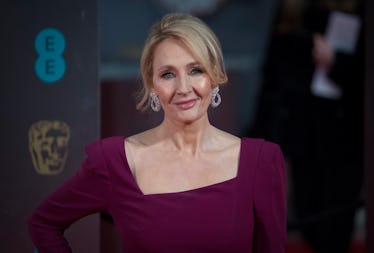 J.K. Rowling Apologized For Killing Off This 'Harry Potter' Character, But He's Still Dead
John Phillips/Getty Images Entertainment/Getty Images
Perhaps to most muggles, May 2 is a day like any other. It's the day after May Day and a couple of days before May the Fourth, but on its own, nothing special. Wizards and witches know differently. May 2, 1998, was the day of the Battle of Hogwarts, the conflict which brought the Second Wizarding War to its end, when Harry Potter died and once again became the Boy Who Lived. This year marks the 20th anniversary of that day. This year, J.K. Rowling apologized for Dobby's death on Twitter, a tradition that dates back a few years now, as her way of marking the anniversary by recognizing those who died to bring freedom to all.
The first year Rowling did this was back in 2015. As fans know now, the redesign of Pottermore was already underway, Harry Potter and the Cursed Child was being worked on for live theater, and Rowling had penned the first script for Fantastic Beasts and Where to Find Them.
Rowling was getting back into the wizarding world with these projects, and she felt like maybe the best way to remember the Battle of Hogwarts, one of the major events on the Potter fans calendar year, was to apologize for each character she killed off, starting with Fred Weasley.
The next year, she decided the best person to apologize for killing was Remus Lupin. Not Tonks, just Remus.
Last year, she accidentally started a massive war on Twitter for apologizing for the death of Snape.
This year, perhaps due to the way things went in 2017, she went for a less controversial figure, but one who did not die in the Battle of Hogwarts.
To be clear, it's not like Rowling ran out of characters at the Battle of Hogwarts who died. Supposedly at least fifty who fought against Voldemort and his Death Eaters perished, including named characters such as Bellatrix Lestrange, Remus Lupin, Nymphadora Tonks, Severus Snape, Fred Weasley, Colin Creevey, and Lavender Brown.
Why couldn't Rowling have apologized for Bellatrix? Or Tonks or Lavender Brown? Does she just have problems apologizing for the deaths of women?
Instead, she decided, for whatever reason, that on this, the 20th anniversary, she would extend her range of those she was apologizing for to include anyone who died in the service of making sure Harry Potter defeated the Dark Lord. In fact, she honored someone who was killed by Bellatrix, who did die at the Battle of Hogwarts.
For those who need reminding about Dobby, he was a house elf, born into servitude, who believed in Harry Potter before Harry even knew he was supposed to believe in himself. He rebelled against his owners, the Malfoys, for nearly 18 months in desperation to keep Harry safe from harm so that one day he would be able to face Voldemort. Dobby may not have made Harry's life easy, but his heart was always in the right place.
Harry knew it too, which is why he tricked Lucius Malfoy into presenting Dobby with clothes so he could be free.
It was Dobby's story that inspired Hermione to start S.P.E.W. It was the treatment of house elves like Dobby, along with other magical beings, that opened Harry's eyes to the terrible parts of Wizarding society. Most children of his birth stature would have taken such things for granted and never questioned their whole lives.
When Dobby passed away, Harry took the time out of his busy Tracking-Down-Horcrux schedule to bury his loyal friend. The marker on Dobby's grave reads "Here Lies A Free Elf." Dobby was survived by a female elf friend named Winky, to whom he willed a whole lot of clothes, including a large pile of socks.
RIP Dobby.