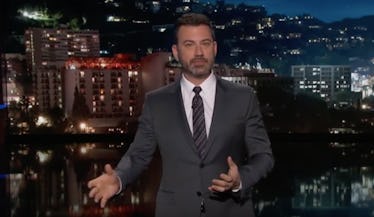 Jimmy Kimmel's 'Bachelorette' Predictions Are In, So Get Your Brackets Ready
ABC/YouTube
A Bachelor or Bachelorette season hasn't offiicially started until Jimmy Kimmel makes his predictions. Bachelor Nation can always count on the late-night host and self-proclaimed Bach superfan to weigh on the suitors' fates, and sometimes he's spot on about what's to come. Who does he think will win the whole thing? Jimmy Kimmel's Bachelorette predictions are integral to the viewing experience when it comes to this franchise, so let's listen to the guy.
Jimmy has a pretty good track record as far as his past prophesies are concerned. When Arie appeared on his show at the start of Bachelor Season 22, he chose Becca Kufrin as the winner. I guess that conjecture can only be considered half right at this point, since Arie ended up dumping Becca for Lauren in the finale. Could Jimmy have predicted that? Probably not. But now that Becca's in charge of doling out roses, it's time to find out who he thinks will end up getting engaged to her. Before revealing his final four picks, Jimmy explained:
Every season at the beginning of the show, I pick which contestant I believe will go the distance. Really, my wife picks them, but I take credit for it. And we're good at this. We've picked five of the last six winners on The Bachelor and four of the past six on The Bachelorette. It's why they call me Rosetradamus.
What say you, Rosetradamus?
Jimmy initially wasted no time poking fun at cast member and male model Jordan, who he remarked has "some serious Bachelor in Paradise" potential. I couldn't agree more. No, Jordan was not in Jimmy's final four — he thinks the "ridiculously good looking" contestant will be booted in week six.
Jimmy's first prediction for Becca's finalists is Ryan, the banjo player America and Becca met on "After the Final Rose." "Seems like a nice guy, has dimples. Ryan will make it to the hometown visits," he elaborated. Fair enough.
Jimmy's second pick is David,aka the Chicken Suit Guy. He also chooses Blake, noting that "Becca said they get each other." He may be the guy she goes back to after she dumps the guy she picks," Kimmel added, as if Becca would pull an Arie and change her mind.
So, Jimmy's prediction for the winner of Becca's season is... Garrett. Here's his logic:
Becca said 'I can see Garrett fitting in with my friends and family,' which means she already sees a future with him. I think Ryan and Garrett will be the top two, and in the end Becca will go with Garrett until she finds out about all the terrible stuff he posted online. Then they will break up. But until then, it will be Becca and Garrett and may God have mercy on us all.
Time will tell if Kimmel's fortelling comes to fruition.
As of now, Bachelor Nation already knows that Becca is engaged to whoever won her heart on the show. She announced the big news prior to the premiere.
"I was asking for a teammate, a 50/50 throughout the entire season. I feel like I truly found that," Becca has said of her new hubby-to-be. "So we'll have each other's backs through the time where we have to stay private, and then well continue that and share it with the world."
The next episode of Season 14 of The Bachelorette will apparently feature Becca's "favorite date of all time" when she heads into a "rage room" to "smash everything the past," including relics from her time with Arie. Talk about moving on.
But just who will she fully move on with? Jimmy and I will certainly be watching for more clues. The Bachelorette airs Mondays at 8 p.m. EST on ABC.