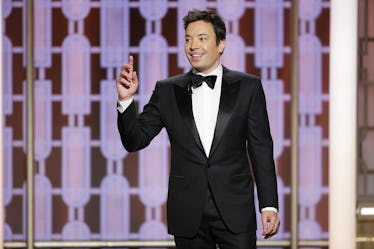 Jimmy Fallon Responded To Trump's "Be A Man" Tweet & It Was Perfect
Handout/Getty Images Entertainment/Getty Images
On Monday, June 25, Tonight Show host Jimmy Fallon began the night's episode with a few words for President Donald Trump. "Before we begin, I just want to give a shout out to our show's number one fan," the host said, "the president of the United States." But the "shout out" was actually Jimmy Fallon's response to Trump's tweet about the late night host from the night before.
On Sunday, the president tweeted about the fact that Fallon had recently expressed regret over a 2016 interview during which the host played with Trump's hair. After the interview, critics accused Fallon for making a joke out of a serious — and, the critics argued, dangerous — time in American politics.
Trump tweeted on Sunday, "[Jimmy Fallon] is now whimpering to all that he did the famous 'hair show' with me (where he seriously messed up my hair), & that he would have now done it differently because it is said to have "humanized" me — he is taking heat. He called & said 'monster ratings.' Be a man Jimmy!"
On Monday night, it was Fallon's turn to respond.
"When I saw Trump had insulted me on Twitter, I was going to tweet back immediately, but then I thought I had more important things to do. Then I thought, 'Wait, shouldn't he have more important things to do? He's the president!' What are you doing? Why are you tweeting at me?"
A video of Fallon's monologue can be seen below.
During the monologue, the host also announced that he'd made a charitable contribution in lieu if Trump's tweet.
"In response, I made a donation in Trump's name to the Refugee and Immigrant Center for Education and Legal Services (RAICES)," Fallon said.
Fallon's expression of regret about his 2016 interview with Trump came during a podcast interview with The Hollywood Reporter. During the interview, Fallon didn't only lament the fact that the Trump-hair moment happened, though, he aired out frustration over the nature of the criticism he received. He said,
It was definitely a down time. And it's tough for morale. There's 300 people that work here, and so when people are talking that bad about you and ganging up on you, in a really gang-mentality... You go, 'Alright, we get it. I heard you. You made me feel bad. So now what? Are you happy? I'm depressed. Do you want to push me more? What do you want me to do? You want me to kill myself? What would make you happy? Get over it.'
But then came the apologetic tone.
Fallon later added, "I'm sorry. I don't want to make anyone angry — I never do and I never will. It's all in the fun of the show. I made a mistake. I'm sorry if I made anyone mad. And, looking back, I would do it differently."
It wasn't the first time Fallon spoke about the Trump interview. In May 2017, the late night host discussed his thinking behind the bit, during an interview with The New York Times.
"I didn't do it to humanize him," Fallon told The Times. "I almost did it to minimize him. I didn't think that would be a compliment: 'He did the thing that we all wanted to do.'"
Still, it's clear why Fallon received the criticism he did: It's because of the simple idea that Trump's (ultimately successful) bid for the presidency posed a unique threat to minorities.
"Network execs, and a lot of their audience, can ignore how very dangerous Trump is because to them, he isn't," said Samantha Bee, who was among Fallon and NBC's many critics. "They're not going to be deported. They're not going to live under a president who thinks of them as a collection of sex toys. They're not racist. They just don't mind if other people are, which is just as bad."
Two years later, Fallon seems to understand the criticism more, if not agree with it altogether.