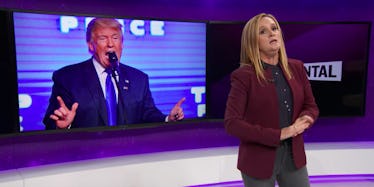 Samantha Bee Put NBC On Blast Following Trump's 'Tonight Show' Interview
YouTube
Samantha Bee is once again speaking for the people and proving that maybe it's time to turn off the regular late night shows in exchange for some "Full Frontal."
On Monday, she put NBC on blast for their constant support of Donald Trump and his racist, sexist and xenophobic rhetoric.
Namely, she blamed the network for "cutting ties" with Trump after he called Mexicans "rapists," but then still allowing him to host "Saturday Night Live" and appear on "The Tonight Show."
With Trump gaining in the polls against Hillary Clinton, Bee lashed out on the network for normalizing him and his hateful messages.
She suggested that ratings seem to mean more to NBC. The network allowed Trump to continue hosting "The Apprentice" and "The Celebrity Apprentice" while promoting birtherism.
Trump continued to deny Obama was born in the United States the same day Jimmy Fallon mussed his hair on "The Tonight Show" and showed off the house where Trump was born.
Bee said,
Network execs, and a lot of their audience, can ignore how very dangerous Trump is because to them, he isn't. They're not going to be deported. They're not going to live under a president who thinks of them as a collection of sex toys. They're not racist. They just don't mind if other people are, which is just as bad. [caption id="attachment_1617817" align="aligncenter" width="480"]Giphy[/caption]
Fallon has only responded to criticism of Trump's appearance with a limp excuse, saying,
Have you seen my show? I'm never too hard on anyone.
However, Bee believes that it's not enough to just make fun of Trump and his many appearances, much like what other late night hosts like Stephen Colbert and Seth Meyers have been doing.
It's time to hold beloved hosts, like Fallon, more accountable. Bee and Jo Miller, an executive producer on "Full Frontal," admitted they love Fallon -- because who doesn't? But then Miller added an important point,
If he thinks that a race-baiting demagogue is OK, that gives permission to millions of Americans to also think that. [caption id="attachment_1617820" align="aligncenter" width="480"]Giphy[/caption]
Miller, who previously worked with Bee on "The Daily Show," admitted that that public servants need to be shown as human beings, but added,
That said, this is not a race between Democrat and Republican — this is a race between Democrat and demagogue. You don't normalize someone who's inciting violence. https://www.youtube.com/watch?v=6sF5dRxk000  
Citations: Samantha Bee Condemns NBC and Jimmy Fallon's Trump Interview (NY Times)