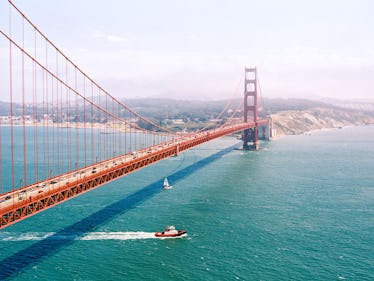 You Can Fly To San Francisco For $44 During JetBlue's Fall Flight Sale
The arrival of the autumn season is almost here, and, to celebrate, JetBlue is slashing prices on fall flights. If you've been mulling over a vacation in October or November, this might be just the sign you were looking for to make it happen. JetBlue's two-day fall flight sale includes $44 fares that won't break the bank. Pack your bags and get ready to hit the skies, because these discounted fares won't be around for long.
JetBlue's fall flight sale is really filling a void in my wanderlust heart. I'm always up for a last-minute getaway, especially when it's super affordable. Most of the time the deals are on budget airlines like Frontier or Spirit, but this time JetBlue is getting in on the discount flights. JetBlue was recently ranked one of the top airlines for customer satisfaction in a survey conducted by J.D. Power, so you know they are legit.
One of my favorite fares from this flight sale is less than $50 for a one-way ticket. JetBlue is offering flights from Long Beach, California to San Francisco starting at $44 each way, according to JetBlue. The return fare is slightly more and starts at $64. By my math, you could fly round-trip to the Golden City for as little as $108. I'm not a finance guru or anything, but that's a great price for a round-trip ticket.
For those who live in Boston, you can score flights to Syracuse, New York starting at $49, according to JetBlue. Maybe a trip to Syracuse University's Carrier Dome is on your bucket list. After all, it is the largest stadium on any U.S. college campus. (Go Orange!) There are a handful of flights departing New York's John F. Kennedy International Airport. Take a quick trip down to Washington D.C. for some cozy fall vibes or head up to Portland, Maine for a glimpse of the gorgeous fall foliage. Flights from JFK to both cities start at $64.
If the impending cold weather has you pining for one last beach trip, check out these fares to Jacksonville, Florida. Flights to the Sunshine State's largest city start at $79 from NYC. Amelia Island, which is roughly a 30-mile drive from Jacksonville, was ranked as one of the Top 10 Islands in the United States by Travel + Leisure in 2018. It's home to luxury beach resorts and endless sandy shores.
Additionally, there are flights starting at $64 one-way from Charleston to Washington D.C. and from Atlanta to Orlando, Florida, according to JetBlue. If a trip to Nashville is on your bucket list, you can jet off to the Music City destination from Fort Lauderdale, Florida. Flight prices begin at $64. With travel that cheap, you'll have more than enough to enjoy several plates of Nashville Hot Chicken.
These fares won't be discounted for much longer. JetBlue's fall flight sale ends on Friday, Sept. 21 at 11:59 ET or your local time, according to the airline's website. Travel is valid between Monday, Oct. 1 and Saturday, Dec. 15. Just keep in mind that there are a few blackout dates including the following:
Monday, Oct. 8
Wednesday, Nov. 7 - Saturday, Nov. 10
Friday, Nov. 16 - Monday, Nov. 23
Make sure you scope out each fare for the nitty-gritty details. Now, it's time to finish folding that massive pile of laundry that's been sitting in the corner of your bedroom (guilty!) so you can get to packing your bags. Safe travels.