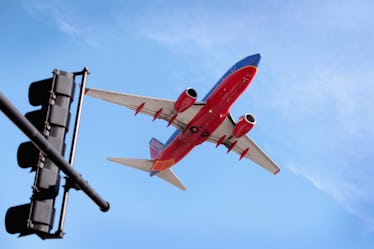 Flying To Florida Doesn't Have To Break The Bank, & Here's What To Know
Scott Olson/Getty Images News/Getty Images
When you think of spring break, one particular state always come to mind. Of course I'm talking about Florida, the sunshine state and notorious spring break hotspot. There are countless beaches to choose from on both coasts of the peninsula, but finding a decently priced round-trip flight isn't always easy to come by — especially during peak spring break season. But there are some options out there that get you laying out in the sun without breaking the bank. Here are cheap airline deals to Florida if you're looking to budget your vacation.
Sadly, there isn't really just one airline that's cheaper than the rest — but that doesn't mean there aren't cheap flights. Generally, the consistently cheap airlines are the no-frills carriers that charge you a base fare for your flight and then make you pay for the rest. The two that come to mind are Spirit Airlines and Frontier Airlines. Depending on when you book and on which days you fly, a one-way ticket can cost you as low as $50. However, both will charge you for anything larger than a personal item. So despite the fact that these airlines are cheaper on the surface level, you might end up paying more if you aren't planning on packing light.
How cheap your flight will be to Florida really depends on where you're flying to. Miami is obviously the most expensive destination to travel to from most cities, although if you book far enough in advance you could find a decent price. Another option if you're looking to spend your break in Miami is to fly into Ft. Lauderdale instead and take a quick train down from the airport directly to the Miami airport. The Tri-Rail is pretty convenient, not expensive, and could save you a couple hundred bucks if you're headed to Miami.
But if you're planning last minute or can't afford a Miami trip overall, there are a ton of other cities and beaches to explore, and they'll definitely save you a lot more money. If you're looking to party hard in traditional spring break fashion, Daytona Beach and Panama City Beach are going to be your top two choices. These classic party beach towns offer up no shortage of booze and good times, and round-trip airfare to both typically won't cost you more than $300.
If you're looking for a tamer beach getaway there are a ton of other places for you to explore. Clearwater Beach is an gorgeous white sand beach just outside of Tampa on the west coast. Another great place to visit is Sanibel Island, where the beaches are known to wash up some of the most beautiful shells the ocean offers (so if you like collecting seashells this is the spot for you). To get to Sanibel Island you'll need to fly into Fort Myers, which is probably the cheapest destination to fly to out of all the above listed. You can find round-trip tickets for as little as $200, which of course depends on the dates you book for.
No matter where you wind up flying to in Florida, there are general rules of thumb that you should follow when booking your flight.
For one thing, you need to give yourself enough time to get your flight in order to get the best price. Sometimes last minute deals can happen, but it's not worth the risk in my opinion. Using tools like Google Alerts, SkyScanner, and Hopper that notify you when your desired flight's price increases or drops also enables you to make a smarter purchase.
Honestly, no matter where you plan on heading this year for your break, it shouldn't stress you out. An expensive flight should never stop you from taking some time off for a little rest and relaxation, and there are a ton of places in Florida that won't cost you an arm and a leg to travel to. So weigh your options out, do the appropriate research, and happy spring breaking!