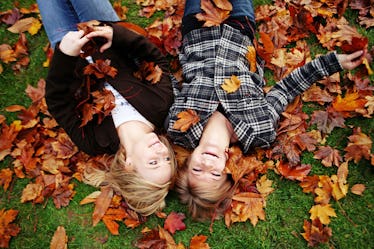 You Can Fly To Atlanta For $20 On Frontier Airlines For A Last-Minute Getaway
The upcoming fall season has me dreaming of pretty drives through the mountains and jumping in piles of crunchy orange and red leaves. If you're looking to catch a glimpse of the autumn season without breaking the bank, then this budget airlines deal is for you. Frontier Airlines' September sale has $20 flights for an affordable AF fall vacay. The super cheap flights won't be around for much longer, so you'll need to book your travel ASAP.
In case you haven't already gathered, I'm yearning for cooler weather and scenic drives. That's why Frontier Airlines' September flight sale couldn't have come at a better time. The airline carrier is offering flights as low as $20 each way to destinations nationwide. As I mentioned, cheap fares like this don't stick around for long. The Frontier Airlines September flight sale ends on Wednesday, Sept. 19 at 11:59 p.m. That means you need to clear your calendar and get to securing those affordable fare deals before they pass you by.
For example, you can fly to Atlanta for $20 each way from Orlando and Miami. Or, you can sneak off to Birmingham, Alabama, for $20 one-way departing from Orlando. Nothing says fall like college football. So, make sure to take the hour drive from Birmingham to Tuscaloosa to catch some college football at Bryant–Denny Stadium. (Roll Tide!) Oh, and let's not forget about the fall foliage you can find in the southeastern part of the country. Fall officially arrives on Saturday, Sept. 22, but you can already start planning your autumn adventure. The leaves are expected to peak in Georgia throughout late October and early November, according to NBC affiliate KKCO. If you're on the West Coast, check out the deal from Los Angeles to Colorado Springs. The leaves are already starting to change colors in the Colorado Rockies.
Those aren't the only deals to be had, though. Other notable flights include $20 fares from Denver to Cincinnati, Ohio, and Wichita, Kansas. Also included are flights from Austin to Jacksonville and Atlanta to Miami, so you can squeeze in one last beach trip before the cold weather arrives. There are many other cities included in Frontier Airlines' September flight sale. Make sure you check the fare lineup for cheap departing flights from your hometown.
The flights are valid for nonstop and domestic flights. You must travel from Monday to Saturday in order to take advantage of the $20 fares. Like most good deals, this sale includes blackout dates. Unfortunately, you won't be able to get your Thanksgiving travel for $20. The discounted fares are not valid from Friday, Nov. 16, to Monday, Nov. 26, according to Frontier Airlines. Oh, and one more thing to know: If you want to book your airfare on the cheap, you will need to purchase your flights at least seven days before you plan to travel, according to Frontier Airlines. It may seem like a lot of rules and stipulations, but you really can't complain much when it comes to $20 flights.
Remember, these $20 fares will only be around until the end of the day on Wednesday, Sept 19. If you and your BFF have been eyeing one final fall getaway before the busy holiday season, time is of the essence.