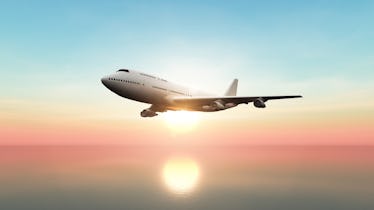 You Can Fly To Florida For $39 With JetBlue's Spring Sale, So Pack Your Bags
Spending hours scouring the internet for reasonable airfare is probably my least favorite part of traveling. I mean, it can totally pay off in the end when you fly to your getaway for close to nothing, but sometimes you want a simpler way to score a great deal. Well, if you plan to hop on a plane within then next few months, then save your time and head to JetBlue, like... now. JetBlue's Big Spring Sale has $39 flights to Florida, and you do not want to miss out on them.
There's nothing like a flash sale on airfare to make you realize that you are in desperate need of a vacation. Seriously, you'll want to start planning a getaway as soon as you see some of the killer deals in JetBlue's Big Spring Sale, as reported by Travel + Leisure. To take advantage of the sale, you'll need to book your flights before the sale ends at 11:59 p.m. ET on Friday, March 16, 2018, according to the JetBlue website.
The other dates to pay attention to when booking your spring travel with the deal are March 27 to June 20, because those are dates you must travel within if you're taking advantage of the deal. Also, make sure to note that May 22 to May 30 are blackout dates (don't worry, you'll still have plenty of opportunities to jet off on a vacation on the cheap).
OK, now that you know how to score the deals, check out exactly what you can get.
Right off the bat, you can get a $39 one-way flight from Atlanta to Orlando, so if you were still toying with the idea of a spring break trip, now is the time to buy. If you don't find yourself residing in Georgia but you still want to head down south, you can grab a $54 flight from Cleveland to Fort Lauderdale.
Alternatively, Floridians looking to catch some rays in a different sunny spot can buy a $174 flight from Orlando to Santo Domingo in the Dominican Republic. If you want to ditch the beach, though, you can inject a little history and education into your trip when you buy a one-way flight from Orlando to Washington D.C. for $84.
East Coast residents a little further up the coast in New York can escape the cold with a $74 one-way flight to Savannah, Georgia, or they can fly from New York to Daytona Beach, Florida for $84. The Big Spring Sale has plenty of options for New Yorkers, and if you missed out on Mardi Gras, you can fly from New York to New Orleans for $154.
If you're on the East Coast and don't have time for a long-distance trip, take advantage of this $59 from Boston to New York. On the other hand, if you want to head cross-country for some springtime sun, buy a flight from Boston to San Diego for $179.
Cheap flights to sun and sand aren't on the menu for Chicagoans, but you can check out a place with a few more skyscrapers than the Windy City when you fly from Chicago to New York for $89. Michiganders can check out a different East Coast hot spot when they buy a $64 one-way flight from Detroit to Boston.
West Coasters looking for a spring escape can "Keep Austin Weird" when you buy a $114 flight from Long Beach to Austin, Texas. If spring break isn't a break without a little slot machine action, you can fly from Long Beach to Las Vegas for $44. Northern Californians can get away, too, with deals like a $164 flight from San Francisco to New York.
So, if you were on the fence about whether or not to get away this spring, then I think these awesome airfare deals have made the decision to for you (and that decision is yes, you definitely deserve a vacation).
Seriously though, this peek into some of the airfare highlights isn't even the half of it when it comes to JetBlue's Big Spring Sale — there are so many deals to be had. So, make sure you check out what flights might fit your own budget and schedule, and remember to book before end-of-day on Friday, March 16 to grab these deals for your best (and thriftiest) vacation yet.