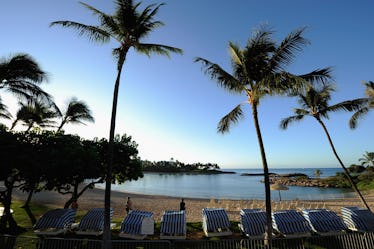 You Can Fly To Hawaii For Under $300 Round-Trip, & Where Do I Sign Up?
Kevork Djansezian/Getty Images News/Getty Images
Do you ever sit around and fantasize about exploring Hawaii, dressed in colorful shirts while sipping fruity drinks and enjoying the island breeze? First of all, same. Secondly, that dream is looking more and more attainable, because there are cheap flights to Hawaii for under $300 round-trip — as in 3-0-0. BRB, I gotta go pack.
On March 14, Travel + Leisure reported that flights to Hawaii are at record-breaking lows, which means that our springtime getaways are looking a whole lot brighter (no pun intended). The site added that, between April and May, round-trip flights from Denver start at $273 and include destinations such as the Big Island of Hawaii, Oahu, Kauai, and Maui. For a few more bucks, $352 and $393 respectively, New York City and Providence residents can also fly to all four islands. (!!!) Or, if you already have your wallet in your hand and are ready to finalize your vacation at this very moment, Alaska Airlines is having a two-day spring sale with one-way tickets to Hawaii for as low as $179.
Flights to Hawaii are generally expensive AF.
Since flights to Hawaii have run scarce over the years, traveling there can come at a steep price tag; however, airline price wars (in which airlines offer lower-priced flights to boost sales) have given customers the opportunity to book flights at dramatically lower prices. In January, just months after low-cost airline Southwest expanded its service to Hawaii, the company's CEO Gary Kelly announced that flights to the state might begin in 2018, which could mean we get cheaper flights even sooner. According to USA Today, Kelly said, "I think there is a chance that we could be flying [to Hawaii] by the end of the year and that will be our goal." He also added that it would depend on when the Federal Aviation Administration (FAA) would accept the company's application to conduct lengthy flights over water, but I'm betting that it gets accepted. If so, Southwest's executive vice president told Hawaii News Now that there would be a major impact on ticket prices. He said,
On average, our fares will be lower than theirs or bring down the market price. That's called the "Southwest Effect." Low costs come from very efficient operations. We pay our people well, but we work them hard and we work the airplanes hard. So that leads to low costs so we have lower than our competitors so we'll be able to bring lower ticket prices.
Southwest isn't the only company to expand service to Hawaii.
Flights prices to Hawaii have dropped dramatically since at least June 2017, when fellow airline competitor United Airlines announced it would be adding 11 flights to Hawaii, including increased service from four major airports in Denver, Chicago, San Francisco and Los Angeles, according to USA Today. In August 2017, Scott Keyes, the mastermind behind Scott's Cheap Flights, hinted that the move might decrease flight prices to Hawaii altogether. He told Thrillist:
It's more likely than not that prices will continue to fall on flights to Hawaii (and elsewhere). We saw cheap summer flights to Italy and Spain fall similarly when discount air carriers, especially, started adding more routes to those prime destinations. With more flights and more seats to fill, I'd say there's a strong chance fares could fall even further.
Keyes' predictions were clearly right because I've never seen a flight to Hawaii for as low as $273 — not even a one-way ticket. Now excuse me: I have to go pack my bags before these prices go up again. Can't risk waiting on it.