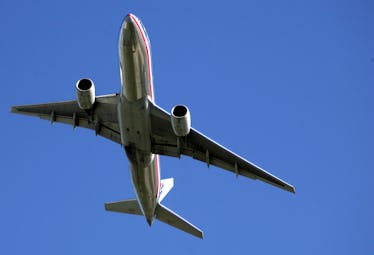 This Crazy JetBlue Flash Sale Is Offering Super Cheap Flight Tickets, So Act Fast
Tim Boyle/Getty Images News/Getty Images
For football fans, there's nothing quite like going to a game: tailgating, screaming sweet nothings at friends and other fans, gorging on junk food and beer. And, of course, the game. A 50 inch flat-screen will do the job in a fix — especially when it comes to how spendy getting to games can be. But JetBlue's Game On flash sale is providing football fans with cheap plane tickets — as low as $39 — to get them to the game.
Travel + Leisure reported that this sale is happening now, which means that you have to act by 11:59 p.m. ET on Thurs. Nov. 2 in order to cash in on this deal. Football fans, rejoice. And then rejoice some more. And then hurry.
Even though JetBlue isn't giving you a whole lot of time, the deals are so good that you could afford to be a little impulsive.
Starting at $39 for a one-way trip and $78 for a round-trip from Fort Lauderdale, Florida, to Chicago and costing as much as $259 one-way from New York to Punta Cana in the Dominican Republic, the budget airline is offering a couple hundred low-cost flight plans.
Long Beach, California, to Las Vegas? Just $59 one-way for a weekend you won't forget, gambling (on football, obvi) and whatever else people do in Las Vegas. Or thaw out your fingers and toes by flying from Buffalo, New York, to Fort Lauderdale, Florida, for just $79. You could even catch a Tennessee Titans game in Nashville for just $84 one way.
Though JetBlue does its fair share of flash sales, including a Halloween flash sale that it advertised two weeks ago and a latte-themed sale last month, the dates covered in its Game On special are vast, spanning November through February.
JetBlue has set available travel dates between Nov. 8 and Feb. 14, with blackouts between Nov. 16 and 28 and Dec. 16 and Jan. 10. Sure, there are blackout dates that probably aren't the most convenient for football fans trying to enjoy the playoffs, but hey, you can't beat a double-digit price tag.
The full list of flights and blackout dates is on JetBlue's website, which you can find here. Plus, you don't need to enter a promo code or do a secret dance. Just click the price of the flight you're interested in, and JetBlue's website will do the rest.
There are both domestic and international flights, from Seattle to Havana, Cuba, and while you might have to do a little finagling, you can play around with flights on the site to figure out what works for you.
Obviously, you'd be a fool not to take advantage of this deal.
After all, flying using this deal is cheaper, in many instances, than driving. Plus, you wouldn't be stuck in a car for hours on end. Road trips are overrated, anyways. Think of how much more time you could spend eating nachos and hot dogs and wearing an oversized jersey in a parking lot.
You could even catch Bret Michaels at a Pittsburgh Steelers game. (Why not? Soooo cheap. You could finally ask him in person if Rock of Love was real. At least, that's what I would do.)
And, hey, if you're not a football fan, or if the dates don't just line up, you can also use this deal to take a vacation somewhere warm.
New York to Bermuda? It'll cost you a cool $89. You could go to Cuba, several destinations in the Dominican Republic, St. Lucia, and even West Palm Beach, Florida.
While your friends are shivering in the bitter northeast winter or drowning in the Northwest's winter rain, you'll be hanging out on a warm beach, living a luxurious life with all the extra money you saved on airfare.
And hey, if you miss this sale, you can follow JetBlue's Twitter account, @JetBlueCheeps for updates on future sales.
*sips margarita*