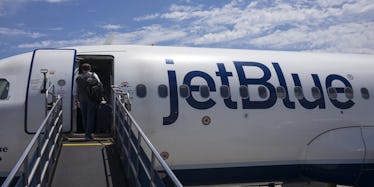 JetBlue Is Having Another Flash Sale, So Book Your Fall Getaway Trip Immediately
Robert Nickelsberg/Getty Images
With all of the madness going on in the world, you are probably feeling a little exhausted. Listen, I don't blame you. The best way to remedy exhaustion is by planning an impromptu getaway, and luckily, you can get cheap flights through JetBlue's flash sale. The "A Latte Travel For A Latte Less" flash sale can get you where you want to go for the price of two weeks worth of lattes. Pretty clever name choice, huh?
Those considering taking a spontaneous trip have until 11:59 p.m. on Sept. 19 to decide where they want to go and for how long. The trip must also be at least seven days from the day it was booked to qualify for the sale, so hurry up and decide quickly because seats are getting filled fast.
To book your flight, all you have to do is visit JetBlue's website and scroll down the page until you find the block that says "A Latte Travel For A Latte Less." (Gosh, I can't get over how clever that name is!) Then, you scroll to find your departure city and what other cities (or countries) JetBlue is flying to.
After a quick scroll, I found that you can fly to Portland, Denver, or even to Havana, Cuba if you're leaving from New York's JFK Airport. For a full list of travel cities visit JetBlue.com.
Like with any major sale, there are always exceptions -- and JetBlue's flash sale does come with some of their own. If you're looking to book your flight for Oct. 5 through Oct. 9 or from Nov. 16 through Nov. 28, your itinerary won't qualify for the flash sale. And if you're traveling out of Newark, White Plains, JFK, or La Guardia between Nov. 7 through Nov. 13, any flights you book through JetBlue will not qualify for the flash sale either.
Blackout dates aside, the "A Latte Travel For A Latte Less" flash sale will allow you, your friends, family, or loved ones to travel to places like Haiti, the Bahamas, Trinidad and Tobago, Mexico, and the Dominican Republic without spending too much cash. So make sure you take advantage of this sale while you can.
Some flash sale flights are starting as low as $39 each way, but if you can't seem to find the destination you are looking for at the price point you desire, you can always head over to Frontier Airlines' website and take advantage of their sale.
Frontier Airlines sale is offering customers 75 percent off certain flights when using the promo code SAVE75. Like JetBlue, Frontier Airlines sale lasts a very short time and customers only have until Sept. 20 to decide if they want to take advantage of it. Frontier Airlines also has specific blackout dates which are from Nov. 19 through Nov. 27.
Taking advantage of Frontier's sale is a little more complicated than JetBlue's, in that customers can only book flights from Sundays to Wednesdays and the flights only go to Florida. This sale is a little more limiting, but it is definitely a good deal to consider if you want to visit the sunshine state.
With such good travel offers, you can basically travel to a new city every other weekend until the end of the year. Just make sure you kick your daily latte habit and you'll be sure to save enough for a round-trip flight. IDK about you guys, but I definitely want to take a weekly weekend vacation now that I can go almost anywhere I want for such cheap prices. And now that JetBlue has free wifi on all of their flights, I can travel knowing I won't miss out on anything while I'm up in the air.