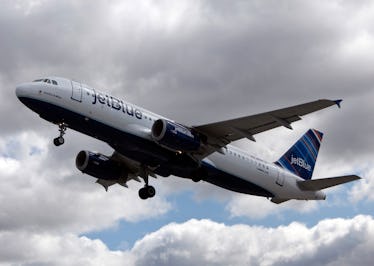 These $39 Flights Are Perfect For A Romantic Valentine's Trip, So Forget The Roses
Allison Joyce/Getty Images News/Getty Images
For those scrambling to make last minute Valentine's Day plans, look no further than Jet Blue's $39 flash sale. Ditch the cliché chocolates and roses this year, and pack your bags for a romantic (and cheap) getaway. Bon voyage lovebirds!
Even airline JetBlue is a hopeless romantic. The two-day flash sale is part of their Valentine's Day themed flight deal, which offers flights all over the U.S as well as a few international trips including Colombia, Haiti, Jamaica, and more. One-way flights start as low as $39 and as high as $214. Let's be honest though, can you really put a price on love?
There's one catch, though. In order to snag this deal, you've got to book by Feb. 14 11:59 p.m ET. However, just because you've booked your ticket doesn't mean you need to pack your bags right away. Travel dates are available between Mar. 6 to June 13, but blackout dates from May 22 to May 30 do apply. So if you plan accordingly, you could be celebrating Valentine's Day twice this year. Or hey, maybe even Galentine's Day.
So whether you and your loved one (or your solo self) prefer a quaint town like Savannah, Georgia or a glamorous beachside paradise like Bermuda, JetBlue has got you covered to ensure that this Valentine's Day is the best one yet.
Want to take the plunge but can't commit to a location? There are a few standout routes that might tickle your fancy, such as a $39 flight from Ft. Lauderdale, Florida to Chicago, Illinois; a $129 flight from Ft. Lauderdale, Florida to Santo Domingo, Dominican Republic; or a $59 flight from New York (JFK) to Savannah, Georgia.
So while these JetBlue flights may be geared for couples looking to get cozy, that doesn't mean you can't take advantage of these deals solo. I don't know about all of you, but sometimes a vacation is best spent when it's with me, myself, and I. According to Condé Nast Traveler, I'm not alone on that — in fact, there has been a significant increase in women traveling alone. Jamen Yeaton-Masi, vice president of worldwide product for Country Walkers & CW Safaris, spoke to Condé Nast Traveler about women taking more on more adventurous journeys alone.
She said,
Women tend to be more adventurous than men in regards to international travel and perhaps even joining groups alone. Women are becoming more financially independent and thus more apt to travel; you could argue that this also gives women more confidence to pursue more adventurous travel.
Not only are we more independent, but I think it goes without saying that we're often our own best company.
So, for the ladies planning on taking Valentine's Day by storm single, take some advice from our experts on how to make it the best day ever. Counselor Keisha M. Wells spoke to Elite Daily about the best ways to spend Valentine's Day alone, one of which included — you guessed it — traveling. According to Wells, spending time in a new environment can awaken and empower senses in women.
So, take Wells' advice and book that cheap JetBlue flight right now. Unfortunately don't have a JetBlue flight near you? Don't stress. There's also a few other cheap flights to book if you're intending to hit the road alone.
For those slightly bummed about spending Valentine's Day single, traveling alone can even lead to some rom-com level romance if you meet that perfect hottie. Come on, haven't you seen a Mary-Kate and Ashley Olsen movie? We can all dream.
Whether it's a romantic Valentine's getaway, a much needed girl's trip, or just the perfect excuse to satiate a case of solo wanderlust, it's time to book these cheap flights now.
See y'all at baggage claim!