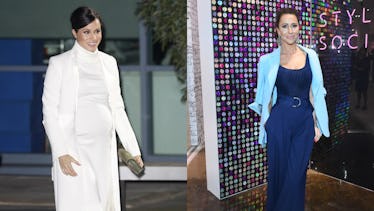 Jessica Mulroney Got So Real About Keeping Her Friendship With Meghan Markle Private
Chris Jackson/Getty Images Entertainment/Getty Images; Sonia Recchia/Getty Images Entertainment/Getty Images
If you haven't heard the name Jessica Mulroney, you must not be a true fan of the royals, because the 39-year-old fashion queen is one of the Duchess of Sussex's besties. Her eight-year-old twins, John and Brian, and five-year-old daughter, Ivy, even served as page boys and bridesmaid in Meghan Markle's wedding to Prince Harry last spring. And Mulroney was one of the lucky guests at that super-secret, super-luxe baby shower thrown in Markle's honor in New York City back in February. The newly-named contributor to Good Morning America recently sat down for an interview with HarpersBazaar.com, and Jessica Mulroney's comments about her friendship with Meghan Markle— and the importance of keeping that relationship private — are both amazing and totally on point.
"This is my first interview that I've done since the wedding or anything," Mulroney explained. "Listen, every person has to have a bit of privacy in their life. There are certain things I hold very dear and secret. There are things I'll never talk about for sure. My life is an open book, but there's always a few secret pages in the back that nobody will be able to read."
Sure, it may sound like an oxymoron. But I gotta say, I am loving that open-book-with-secret-pages metaphor, and totally plan on finding a way to just casually slip it into my next conversation.
Meanwhile, in addition to working as a bridal authority and fashion contributor, Mulroney revealed to Harper's Bazaar that her passion lies in advocating for Canadian fashion brands. In fact, she said it was Markle's July 2018 appearance in a sleeveless trench dress from Calgary-based brand Nonie that saved the company from going out of business.
"It's tough to be a designer," she explained. "It is really tough to be a Canadian designer. Sometimes all you need is that one-time break and it'll change your life. If you get your item on a celebrity, that's almost like the top of the top — a new way of creating business. I have a lot of friends in the entertainment business and I myself have a significant Instagram account, so I can throw them a bone and wear the earrings if I like them."
Mulroney's Instagram following grew significantly, of course, after she opened herself up to the intense royal tabloid culture after she rolled up with Ivy on the steps of St. George's Chapel at Windsor Castle for Meghan and Harry's nuptials on May 19, 2018.
So how has she dealt with all the attention? For Mulroney, it seems, the pros of being in the public eye far outweigh the cons.
"It comes with the territory," she explained. "There are so many benefits to certain things, but then also a lot of negativity that you have to deal with at the same time. You have to stay positive."
Great outlook, sis!
And even with all her newfound power and fame, Mulroney is still not above taking an elevator selfie with her husband:
Fashion stars, they're just like us!