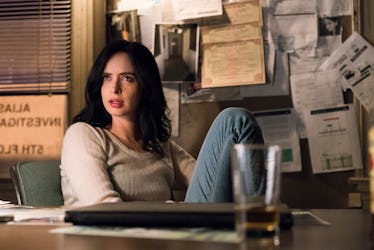 'Jessica Jones' Is Officially Renewed For Season 3 & Fans Can't Control Themselves
Netflix
Hallelujah and pass the whiskey. Though Jessica Jones Season 2's ratings were down slightly from Season 1 (Rotten Tomatoes gave it a score of 87 percent to Season 1's 92 percent), Netflix has not hesitated in giving the go-ahead to continue production. It's only been five weeks to the day since the show debuted on Thursday, March 8 (International Women's Day), but the news is out: Jessica Jones is renewed for Season 3.
This is a big deal for Marvel series, which is the third to debut since Netflix changed its content strategy last year. Prior to June of 2017, Netflix auto-renewed shows like clockwork, and usually before the season at hand had even begun streaming. (Stranger Things Season 2, for instance, was greenlit before the show became a phenomenon.) But Netflix CEO Reed Hastings felt they had "too many" successful shows and the streaming service needed to be pickier about which got to continue.
Since the seachange in how Netflix views renewals, Marvel has released The Defenders (August 2017) and The Punisher (November 2017). Of the two, only The Punisher was given a renewal, and it was made to wait for it. The Defenders still hasn't heard if they'll do a second season, and at this rate may not be coming back for a good long while, if ever. So to see Jessica Jones renewed, and swiftly, is heartening.
And fans are certainly drinking to that:
At this point, Marvel is committed to doing three series a year, after only doing two per year in 2015 and 2016. Last year saw Iron Fist, The Defenders and The Punisher released on a March-August-November schedule. This year Netflix has had Jessica Jones 2 in March, and later this year they'll release Luke Cage 2, coming in June, followed by Daredevil 3 coming sometime in the fall.
Meanwhile, Iron Fist 2 (which was lucky to slide in while Netflix's renewals were still automatic) is in the midst of filming, and will probably arrive at the top of 2019. The Punisher 2 hasn't started filming yet, but they're in the process of casting, so we can assume they'll follow in mid-2019. With no Defenders 2 in the mix, and no spin-offs of other series ready to go (though Luke Cage's showrunner is very hopeful that a Heroes For Hire series could be spun off eventually), that puts Jessica Jones as the third show for 2019, and probably coming sometime in the fall.
As for who will return along with Krysten Ritter in the title role, the press release doesn't say, though Deadline name checks the core cast, including Rachael Taylor as Trish Walker, Carrie-Anne Moss as Jeri Hogarth and Eka Darville as Malcolm Ducasse.
It would be hard to imagine these three won't return, considering how things ended last season. Jessica has managed to alienate all three, with Malcolm now working as a P.I. for the competition, and taking Jeri Hogarth as a client. How exactly this gets rectified, if it does, remains to be seen, but fans can't imagine Malcolm staying away forever.
As for Trish and Jess, their relationship has always been on and off, but it's definitely off again until Trish shooting Jessica's mother in the Season 2 finale can be put behind them. Good thing Trish seems to be developing catlike reflexes from her failed attempt to become a superhero by surgery. Fans have been impatiently waiting for her to become "Hellcat," which is her character's alter-ego in the comics, and that development will definitely keep Trish busy.
Jessica Jones Season 3 does not as yet have a release date, but it's safe to assume she'll probably be back in 2019.