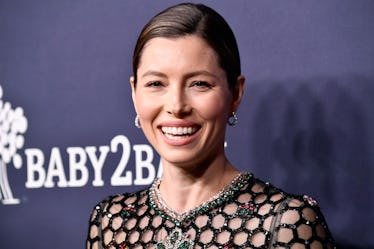 Jessica Biel Wants You To Try Yoga For This One Reason & I'm Already On My Mat
Frazer Harrison/Getty Images Entertainment/Getty Images
Yoga is no longer just for hippies, guys. The incredible, stress-relieving practice has exponentially grown in popularity over the past several years, to the point where you've probably seen some of your favorite celebs rolling out their mats and getting their flow on, too. Personally, I've always been obsessed with Jessica Biel, and her quotes about yoga in a recent interview with WomensHealthMag.com just make me love her that much more. Slay, Jessica, slay.
Social media can honestly make it seem like celebrities have got it all figured out, which sometimes makes us 20-somethings feel a little bit like lost puppies aimlessly chasing our tails as we try our hardest to navigate this weird thing called "life." But Biel reminded us that we're not alone when she told WomensHealthMag.com that she, too, struggled to find herself in her 20s, — until she got into yoga. She told the outlet,
I was searching for my identity as a person, and what defines me. And yoga became a space where I can really touch back into myself and my spirituality.
Biel credits her yoga practice to helping her "step back into the practice of real life" after each rejuvenating session on the mat.
As a yoga teacher myself, I can totally relate to Biel's empowering point here. Yoga allows you the unique opportunity step outside of the real world to focus on something that's just for you, and only you. Even if you only practice for a few minutes at a time, there's nothing like that feeling of clear-headed presence and empowerment that you get when you step off your mat. and And the fact that one of my favorite celebs is spreading the word to inspire more people to get on the mat is nothing short of amazing.
Though many people come to yoga purely to reap the physical benefits (which is totally fine, BTW — whatever gets you flowing, friend), Biel told WomensHealthMag.com that her 20- to 30-minute daily practice is so much more than just exercise:
[Yoga is] more of a stress reliever and a life calmer. It just helps me with everything that I have to do in my life.
Amen to that, sister. When you put it that way, I think everyone can agree that a heaping dose of daily yoga sounds absolutely glorious.
Plus, if you tend to feel a kind of disconnect to your body during super-intense workouts like HIIT or cycling, Biel told WomensHealthMag.com that yoga is a great addition or alternative to these high-impact exercises, because the practice makes you feel that you and your body are working together as a team, rather than against one another. She explained,
You focus on different parts of your body, by breathing into them. To me you kind of check out in other exercise experiences. The benefits of the breathing are so beyond any other exercises I've been a part of, and I think it's so unique in that way.
Biel's reasons for why you should do yoga in your 20s are spot-on, and if she's convinced you to try your hand at this ancient practice, the good news is that you can easily start, literally right now.
One of my favorite quotes about yoga comes from Tirumali Krishnamacharya, aka the "Father of Modern Yoga," who said, "If you can breathe, you can do yoga." So, if you're sitting there, reading all of this major yogi inspiration from Jessica Biel, but doubting you're "flexible enough," or "toned enough," or whatever enough, trust me, you are definitely in the clear to roll out a mat and get to it.
If you feel a bit intimidated at first, or you're not quite sure where to start, that's totally OK. For now, try a short and sweet beginner YouTube yoga flow in the comfort of your home that will get your heart pumping, muscles moving, and your mind releasing all the stress of the day.
On the other hand, if you can make it to a local studio for a beginner's yoga class (many studios provide a free week of classes, FYI), having that extra attention and hands-on instruction from an experienced teacher will be an extremely helpful way to kickstart your yoga journey.
Remember, yoga is for everybody, so roll out that mat and channel some super zen, Jessica Biel vibes. Ugh, she really is the best.