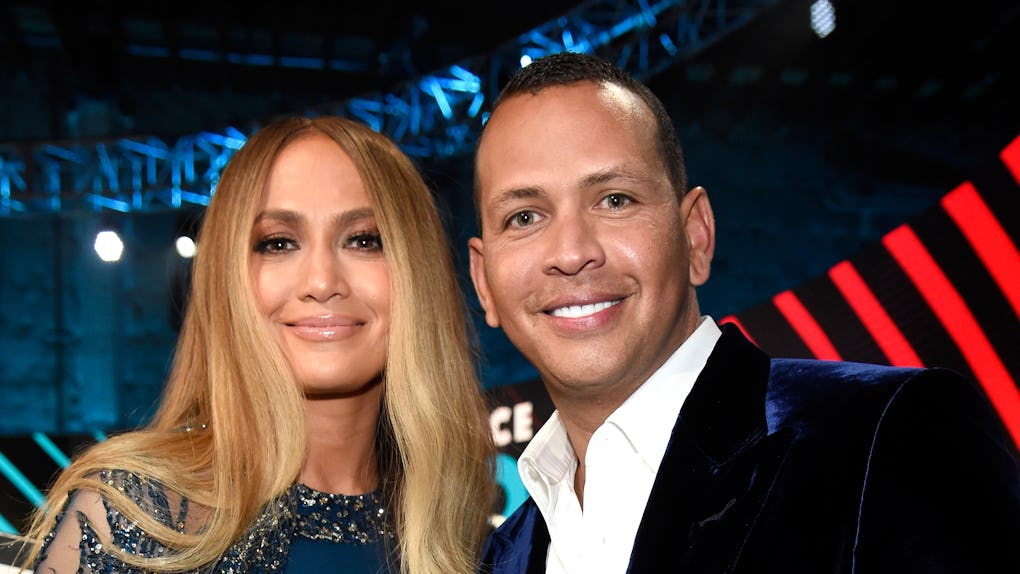 Kevin Mazur/One Voice: Somos Live!/Getty Images Entertainment/Getty Images
Jennifer Lopez's Reaction To Alex Rodriguez Lying About Their First Date Story Is Funny AF
Ever wonder how Jennifer Lopez and Alex Rodriguez got together? Well, if you were to ask them, they'd each have conflicting stories to tell. At least that's the way it played out when Rodriguez recently appeared on the TODAY show with Kathie Lee Gifford and Hoda Kotb. Apparently, the couple has totally different recollections of how their first date came to pass. And Jennifer Lopez's reaction to Alex Rodriguez lying about their first date is pretty hilarious.
Here's how it went: basically, Gifford and Kotb asked Rodriguez how he and Lopez came to be a couple, which prompted Rodriguez to talk about their first date. Right off the bat, Rodriguez said there was some debate about whether they were on an official date or not.
"She would debate you that it was a date, and I to this day will say I was just there, like, friends, and that's probably why I felt so comfortable," Rodriguez shared.
Lopez was standing off camera during the whole interview, so Kotb looked to her for confirmation and that's when things got a little hairy. Lopez apparently mouthed the word "liar" to Kotb as Rodriguez was recalling their first date.
But knowing Lopez was only (sort of) joking, Rodriguez took the whole thing in stride and continued to share his side of the story.
See the exchange for yourself:
"Thank goodness for me 'cause if I thought it was a date, I would have fumbled a little myself, but since I was there as friends, we just had the most magnificent three-hour conversation," Rodriguez recalled.
Aw, it sounds like Rodriguez was nervous to be out with Lopez, which is so sweet to think about. Even more heartwarming is how much he seems to respect her.
While Rodriguez may have thought they were just friends, he did have a moment of realization that what he had with Lopez was possibly more than that. And rather than let the moment pass him by, he took advantage of it, full stop. Here's how he did it in his own words:
"Then I went to the bathroom and then I started building some courage, and I pulled out my phone and actually texted her something," he explained. "I texted her something along the lines of — for TV — 'you look very beautiful.'"
After some debate about the text message he sent (apparently, it was a lot more suggestive than he was comfortable revealing), Rodriguez went on to explain how he handled his nervousness during their date.
"I told her that sometime around the seventh inning of that date, or sixth inning, I realized, this may be not friendly, this may be a date, so then I built some courage. I had a little vodka," he said. "I was so nervous, I was like, 'Do you mind if I have a drink?' So, I had two, and then I went to the bathroom and said, 'OK, now I'm going to get really tough on this,' and then I wrote her what I wrote her."
And it worked. Rodriguez and Lopez have been together for nearly a year and a half now and it doesn't look like their romance is cooling off anytime soon!